Author Archive
Posted on September 13, 2010 by
Tuesday, Sept 14th: Foreclosures Gone Wild Webcast
On the 3rd Tuesday of each month at 7PM ET, short sale expert Kimberlee Frank will spend an hour answering your questions on investing in short sales and helping save people from foreclosure. If you are thinking about investing in short sales, are currently investing in short sales, or perhaps quit doing short sales in the past due to the negotiating hassles, this is a webcast you don't want to miss. Register Now for the Webcast!
Thursday, Sept 16th: Atlanta REIA Webcast – Does Your Website Need an Extreme Search Engine Makeover?
Starting on Sept 20th, 2010, Dustin Griffin, along with many other real estate investors and entrepreneurs in Atlanta, Orlando and scattered throughout the USA will be embarking on a 90 Day Extreme Search Engine Optimization (SEO) and Search Engine Marketing (SEM) Makeover in efforts to get their web sites, pages and profiles dominating the first page of major search engines such as Google, Yahoo, Bing and other quicker than they ever thought possible! Register for this Webcast to Learn More!
Saturday, Sept 18th: Fuller Center Volunteer Workday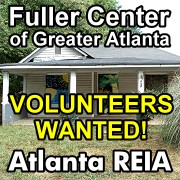 If you haven't yet come out and joined Atlanta REIA and the Fuller Center of Atlanta on Project Lakewood yet, now is the perfect opportunity for you to get involved and help us build, renovate and repair more homes for needy Atlanta families than ever before! On September 18th at 9:30 AM, we will be meeting at the newly renovated house we just completed at 10 Gould Street to start power washing, scraping and painting a dilapidated, owner occupied house just down the street. We need your help so please come lend a hand. RSVP on Facebook Now!
Monday, Sept 20th: The 90 Day Extreme Internet Marketing Makeover Workshop Begins!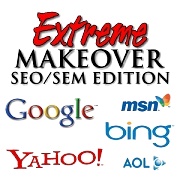 Starting on September 20th, Dustin Griffin is kicking off the 800 Lb Guerrilla Internet Marketing 90 Day Extreme Makeover and would love for you to participate and show you what you can achieve online with the proper training, a little hard work and a 90 day action plan to get it done. Dustin is going to show you how to take your Internet presence from zero to hero in 90 short days so you can generate more leads online than ever before! See more info about this upcoming event.
Tuesday, Sept 21 at 6PM: Atlanta REIA North Monthly Meeting
Atlanta REIA North is a subchapter of the Atlanta Real Estate Investors Alliance that meetings on the 3rd Tuesday of each month at from 6:00 PM to 8:00 PM at 1960 Skylar Hill Dr, Suite D, Buford, Georgia in North Gwinnett County just a few miles from the Mall of Georgia. Like the Main Atlanta REIA Monthly Meeting, this subchapter will be led by Dustin Griffin and Gordon Catts and will focus on a wide variety of cutting edge real estate investing strategies with a special emphasis on Internet Marketing and Technology for the modern day "High Tech Investor". The cost is $5.00 at the door for non-members.
Thursday, Sept 23 at 7PM: An Evening with a Real Estate Expert
On the 4th Thursday of the each month at 7PM ET, we will be bringing in local and national real estate industry experts for an interactive exchange of ideas, information and questions and answers on a wide variety of real estate investing topics. Whether you are new to investing or have been doing it for years, this webcast training series is designed to expose you to a wide variety of real estate industry experts and give you an opportunity to hear what they do and ask them questions and get straight answers. This is a NO SALES, TRAINING ONLY webcast. Register for the Webcast Now!