Chris & Donna Littleton
Posted on July 8, 2011 by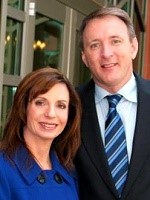 Chris & Donna Littleton, co-owners of Solutions Realty Network, Inc. (SRN) share a passion for seeking out sound real estate investment opportunities. Their commitment to making them profitable is realized through standardized renovations, reliable property management, and consistent maintenance. The team at Solutions Realty Network prides itself on being experts in their field and proves it by successfully managing over 400 single & multifamily homes in 17 metro Atlanta counties.
The Littleton's have been active real estate investors and property managers since 2003. Their franchise, The Real Market Experts® of Atlanta, assisted investors nationwide in acquiring $60 Million of Investment Property in just a few years. They are members of the National Association of Realtors (NAR), the National Association of Residential Property Managers (NARPM), and among the first in Georgia to earn the "Real Estate Property Management" REPM designation.
Chris is certified by the EPA in Lead Renovation, Repair, & Painting (RRP), a FAA licensed airframe & powerplant (A&P) technician, holds a FCC license and has a strong background in construction and renovations. He has educated investors nationwide in all areas of maintenance and property management. Donna is the Broker for Solutions Realty Network, a Certified International Immigration & Investment Specialist, a member of FIABCI – The International Real Estate Federation and GAR Global. Chris & Donna are continuously sought out to speak nationwide – from Maui to New Jersey, yet are extremely approachable and available to local investors.