Archive for April, 2014
Atlanta REIA Members Can Attend at No Charge. This month,
Guests Can RSVP Online Now for $20 or Pay $25 at the Door.
PLEASE NOTE: The Atlanta REIA Meeting is being held at the Salvation Army Building located at 2090 N Druid Hills Rd NE, Atlanta, GA (Map) on Monday, May 5th at 5:00PM until 9:00PM. Atlanta REIA Members can attend at no charge and Non-Members and Guests can RSVP Online for $20.00 or pay $25.00 at the door. Non-Members can Join Atlanta REIA before the meeting and then attend the meeting for FREE!

*Please Note: Meeting agenda is subject to change.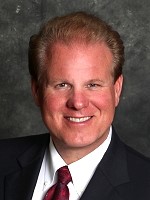 We are excited to announce that real estate and private money expert Jay Conner is our keynote speaker for May. Jay will teach you "Where to Get the Money Now" to fund all of your real estate deals. He will teach you how he has built his buying and selling houses business into a seven figure income in less than 2 years on automatic using a simple, step-by-step system (that anyone can duplicate) which enabled him to raise $2,150,000 in less than 90 Days.
Jay is going to share the knowledge he's acquired while creating a 7-Figure annual income in his own Real Estate Business with you! Jay's specialty is acquiring Private Money for his renovation projects. And whether you know it or not, the difference between the rich and the "just getting by" into today's Real Estate World…is Private Money.
A large part of Jay's business is based on people putting up the money to make a loan so he can buy a property cheap and take advantage of the bank-owned real estate bonanza that's going on out there right now. Jay always gets a big check when he buys a property and doesn't even make monthly payments on his loans!
If you're remotely interested in transforming your Real Estate Career from a frustrating hobby to a thriving 6-Figure business that churns out thousands of dollars in passive income month after month, this may be the most important meeting you attend all year!
Join us at the meeting and Jay will teach you how to:
Never miss out on a deal because you don't have the money to fund it
Step-by-step, how Jay raised $2,150,000 in 90 days
Get an unlimited amount of funds for your deals
Tap into Jay's Private Lender Data Feed of over 8000 private lenders who are waiting to fund your deals
Get 2 big checks every time you close a deal… one when you buy and one when you sell

The Atlanta Homebuyers Society (AHS) is a brand new mastermind group that is forming now for persons interested in buying and selling houses for fun and profit. The program consists of the sharing of information and experiences among participants in the program related to their efforts, successes, and mistakes in regard to buying and selling real estate. The purpose of the group is to help participants become better and more profitable real estate investors and to share in those profits.
At 4:00 PM in the Main Meeting Room, the Atlanta Homebuyers Society is having its 2nd meeting for all those who may be interested in participating in the program. At this meeting, interested participants will learn more about the program, meet group leaders and learn how to apply for the program.
Four (4) AHS Groups are now forming now in Atlanta. Russ Hiner, Rock Shukoor, Leslie Mathis and Gordon Catts will each lead an AHS group consisting of five (5) members/entities each. Because of the limited number of openings in each group, the available positions will fill quickly. So if you are interested in participating in the Atlanta Homebuyers Society…
Visit AtlantaHomebuyersSociety.com to read all about the program.
Download the Atlanta Homebuyers Society Application.
Complete the Application & Agreement and bring it on May 5th, 2014 at 4:00 PM.
If you like what you hear about the Program, turn in your Application and group leaders will review your Application and let you know if you have been accepted or have been put on the waiting list.
PLEASE NOTE: The number of participants in the program is extremely limited. Once membership of the group reaches capacity, a waiting list will be created for additional applicants. If you want to be the first to be considered for the program, be sure to bring your Application and attend the meeting.
Marketing & Deal Structuring: Also on Monday at the AHS Meeting, Rock Shukoor, Leslie Mathis and Russ Hiner will be going over several different deals and the creative deal structuring the used to put the deals together. They will also be discussing how to generate the required number of leads each month per Homebuyer Society requirements so you can maximize the number of deals you do each month.
Atlanta Real Estate Market Update: Deborah Harris will be giving us a short, but detailed analysis and update the Atlanta real estate market. Join her at this mini-session where she will give you a quick recap and overview of latest changes going on in the metro area.
This month we are excited to announce an Active Investors Group Meeting full of useful information. Real Estate is local in nature. One area of town may be selling quickly while another is not selling well at all. Join us at the meeting to determine what areas are active vs those that have not recovered.

Jim Hitt with American IRA will be joining Gordon Catts to present a talk on Creative Deal Structuring. With a shrinking inventory and stiff competition, having alternative buying strategies is critically important. Jim is a seasoned investor as well as an IRA Custodian. He brings years of experience as well as the benefit of observing the transactions of many seasoned investors who are using IRA Funds to transact business.
Deborah Harris, a Multi Million Dollar Producing Real Estate Agent, will be presenting an abbreviated Market Update on the Atlanta Real Estaste Market. Deborah will be doing the same update at the Atlanta Homebuyers Society Meeting as well.

At 5:00 PM in the Main Lobby, we have a Vendor Trade Show that lasts throughout the meeting where you can come out and meet many of our participating Business Members and Vendor Guests who help sponsor our meeting. See a full list of our vendors and sponsors below as they are added.
Vendor tables are limited, so any vendors wanting to reserve a table for the meeting can RSVP for a Vendor Table here. Vendor tables are reserved and setup on a first-come, first-serve basis.

Starting at 6:00 PM, Dustin Griffin kicks off the Atlanta REIA Main Meeting with updates and announcements. Dustin covers what's happening at Atlanta REIA in the upcoming weeks and months such as upcoming workshops, webcasts, special events, members benefits and much more! Be sure to be in the main meeting room at 6PM for your chance to be one of the first to receive a printed copy of The Profit Newsletter while supplies last.

At approximately 6:15 PM, Joe Thompson will be hosting the Haves & Wants Speed Marketing Session which gives our members the opportunity to quickly market deals they HAVE and to find deals they WANT. We also give our business members the opportunity to get up and say a few words about their businesses. Members who want to participate in the Haves & Wants Marketing Session must bring your flyers and get to the meeting early to get on Joe's list of participants.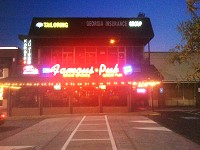 After the conclusion of the Atlanta REIA Main Meeting, we will be reconvening at the Famous Pub located at 2947 N Druid Hills Road NE in Atlanta, GA (in the Toco Hills Shopping Center) at 9:30 PM for the All New Late Nite Networking and the "Meeting-After-The-Meeting"! The Famous Pub will be extending our members and guests food and beverage specials throughout the evening.
Do you love hanging out with other fun loving, like-minded real estate investors who love to talk about real estate investing and doing deals?
Do you want to work with fun, energetic people who are consistently doing deals?
Are you always looking for new contacts and resources to build your real estate dream team?
Do you ever have trouble putting together profitable deals and need help?
Are you constantly looking for new leads sources as well as home buyers and sellers?
If you answered "yes" to any of these questions, then you belong at Late Nite Networking! Whether you are brand new to real estate investing or have years of experienced, everyone benefits from Late Nite Networking. Come eat, drink, connect, and have fun with like-minded real estate entrepreneurs as we network late into the night!
There is no charge for Atlanta REIA Members or guests, so bring a friend and head on down to Late Nite Networking! Just be sure you order food and beverages from the pub and tip their wait staff generously.

Networth Realty of Atlanta, LLC – A licensed, full-service residential wholesale brokerage that specializes in finding quality wholesale properties and making them available to you. Read More>>

The Small Business Advisor – A full service small business consulting firm specializing in QuickBooks with a wide variety of specialized services, trainings and products for small businesses. Read More>>

Advanta IRA Administration – With the help of your local Advanta IRA staff, use your IRA to invest in assets you know, understand and control, such as real estate, notes & mortgages, private placements, and much more! Read More>>

Lima One Capital, LLC – A fully capitalized, direct lender for residential real estate investors and homebuilders. We are fully capitalized and our team prides itself on closing loans quickly for our clients. Read More>>

Goldmine Properties, Inc. – As Atlanta's first full service real estate wholesaler, we offer wholesale property at 65% loan to value, with financing available. Purchase price and repairs are 65% of certified after repaired appraisal. Read More>>

Halperin Lyman, LLC – A transactional real property law firm devoted to providing the full spectrum of non-litigation related real estate legal and consulting services to its clientele. Read More>>
FirstCall Claims – Our public adjusters are experts in preparing, documenting, and negotiating claims. With more than 20 years of experience and millions of dollars for our clients, FirstCall has a solid record of improving settlement outcomes. Read More>>

Solutions Realty Network – Providing expert property management and investment services since 2003. You invest and we take care of the rest! We're the solution to all your real estate needs. Read More>>

Craftbuilt, Inc. – We are a Metro Atlanta design-build construction firm specializing in whole-structure renovations, restorations, and new construction. No matter what the situation, we are up to the challenge! Read More>>

Pete's Friendly Home Inspections, LLC. – Pete's provides home inspections, radon monitoring, gas/water/septic tests, checks pools/sprinklers and any other type of inspection needed to get you that next home! Read More>>
Atlanta Capital Funding – A privately funded hard money residential and commercial lender specializing in unconventional financing where speed and attention to special circumstances are critical. Read More>>

American IRA – The American IRA mission is to provide the highest level of customer service in the self-directed retirement industry.
Read More>>

Atlanta Private Lending – Atlanta's premier private real estate lending company. We provide private, hard money loans to professional real estate investors for renovation and investment purposes. Read More>>

Commercial Realty Experts – Our Team utilizes the latest information technologies, market research, and business strategies to move real estate quickly, or satisfy your particular buying needs. Read More>>

Angel Oak Prime Bridge – A direct hard money lender headquartered in Atlanta. We provide renovation/construction loans for investors and builders to purchase and renovate residential properties. Read More>>

CRS Data – We offer comps from the MLS & FSBO's, custom searches, property tax records, interactive maps, sales & mortgage info, real estate valuations, mailing lists & more. Read More>>

Atlanta Carpet Services, Inc. – Providing carpet, wood, vinyl, and tile, ACS is dedicated to every aspect of your floor covering needs from initial consultation to the sale and follow-up services. Read More>>

Fuller Center for Housing of Greater Atlanta – A faith-driven, Christ-centered, non-profit organization dedicated to providing adequate shelter for people in need in the Greater Atlanta area. Read More>>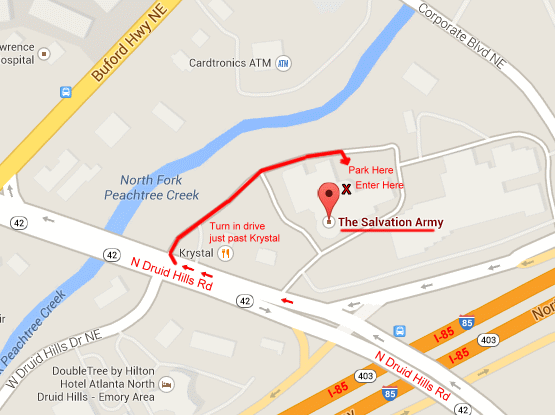 DIRECTIONS: Get off the exit at 1-85 and North Druid Hills Rd. Turn into the driveway just to the left of Krystal and follow the driveway straight back to the Salvation Army Temple. We will have some directional signs out to make it easy for you to find.