Archive for February, 2011
Posted on February 27, 2011 by
Join Atlanta REIA, the Hot New REIA in town that everyone is talking about for as little as $100/yr!
Monday, Feb 28th @ 6:30 PM (NEW SUBGROUP MEETING!)
Atlanta REIA West Meeting Starts on Monday, February 28th at 6:30 PM
Buying REO Properties at Auction
What to Expect & How to Buy
So many properties have been foreclosed on and repossessed by the banks which are using "ballroom auctions" to liquidate the extreme excess of properties they have in inventory right now. Many times these REO's sell for 40-50-60 cents on the dollar! There are some incredible deals to be had at these auctions, but you MUST know what you are doing to play in this game. The deals are plentiful if you know what to look for and what to avoid.

Come join us on Monday, February 28th at 6:30 PM as we kick off our very first Atlanta REIA West Meeting (NEW!) at the Cherokee Cattle Company located at 2710 Canton Road in Marietta, GA, where Leslie Mathis will take you step-by-step through what you can expect, and more importantly, what you need to know, to successfully buy REO Properties at these ballroom auctions. She will even cover a couple of strategies that will allow you to make quick cash without long-term ownership, simply by putting these properties under contract, then finding investor-buyers for them. Get paid thousands of dollars in just 30 to 45 days!
Atlanta REIA Members can attend for FREE and guests for $5.00. Show up at 6:30 PM to eat and network before the meeting officially starts at 7:00 PM. Late Nite Networking starts in the restaurant lobby at 9 PM.
Tuesday, Mar 1st @ 7 PM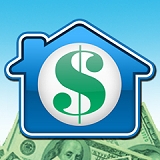 Starting on March 1st at 7PM ET and the 1st Tuesday of the month thereafter, Dustin Griffin is going to teach you how to take your real estate investing business to a whole new level using the latest, cutting edge real estate tools and techniques. You will learn how to use technology, automation and delegation so you can work smarter, not harder and earn far more money by working less. We like to say "The Technology makes us Super and the Training makes us Smart!" Put them together and that makes us all Super Smart! Register Now for the Webcast!
Thursday, Mar 3 @ 1:30 PM

This meeting is a weekly investor's brainstorming and deal making jam session hosted by Joe Thompson and held at 5 Seasons Brewing located at 5600 Roswell Rd (map) inside the Perimeter at the "Prado" in Sandy Springs from 1:30 PM till approximately 3:00 PM. This group is all about doing deals and making money right now. Bring your haves & wants for some of the best networking and marketing around!
Saturday, Mar 5th @ 9 AM
Fuller Center Volunteer Workdays
Start Back Up Again This Saturday

It is starting to warm up again outside and Atlanta REIA and the Fuller Center of Atlanta are cranking back up our Saturday Volunteer Workdays on Project Lakewood. We're looking for volunteers this Saturday and every other Saturday to come out and help us eliminate sub-standard housing for local area residents. We meet at 9:00 AM at 1125 Oak Knoll Terrace SE in Lakewood (Atlanta, GA) and usually work until 3:30 PM. Snacks and beverages are provided and you can bring your own as well. Join us and you will get hand-on experience as we renovate and repair homes for some of Atlanta's neediest families.
Sunday, Mar 6th @ 6:30 PM
Cashflow Game Night is a meetup where individuals can learn to take control of their financial future by playing Robert Kiyosaki's educational Cashflow 101 and Cashflow 202 board games. The Cashflow Players Group meets again on Sunday, March 6th at 6:30 PM at Taco Mac located at 5600 Roswell Rd in Sandy Springs, GA (map). Atlanta REIA Members play for FREE. Come eat, drink, play and network with us!
Monday, Mar 7th @ 5:30 PM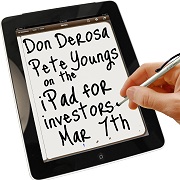 Come to the Atlanta REIA Main Meeting on March 7th at the W Hotel Atlanta Perimeter for a SNEAK PREVIEW to find out how the iPad gives you a HUGE competitive advantage and all the confidence you need in your real estate investing business. See Don DeRosa and Pete Youngs show you how the iPad will totally change the way you do business…saving you countless hours of time, and giving you access to everything you need to run your real estate investing business, wherever you are.
Webcast Replay 24/7/365 – Recorded Live Feb 24, 2011

Pete Youngs and Don DeRosa were our special guests on this month's Evening with a Real Estate Expert Webcast. Don and Pete talked about how new investors can get started investing in real estate with little money and no credit by wholesaling houses or wholesaling lease-options. Don and Pete also talked about what they will be teaching on March 7th at the Atlanta REIA Main Meeting as well as their 5 Day Investor Bonanza Boot Camp on March 16th – 20th. Overall, Don and Pete had some great advice for investors. Watch Webcast Replay Now!
Webcast Replay 24/7/365 – Recorded Live Jan 18, 2011
Don DeRosa was our special guest on the January 2011 What's Hot in Real Investing Webcast. Everyone has probably heard about the hot new iPad by now, but many think its just a cool new toy. On this webcast, Don showed us how he uses the iPad as an integral TOOL to run his real estate investing business and not just as a TOY. Watch the webcast replay to see how the iPad and the right training can totally revolutionize your real estate investing business in 2011 and beyond!
Special Offer of the Week

Subscribe to our Atlanta REIA Email Newsletter and receive Don DeRosa's ebook entitled "Private Money – How to Get it Without Asking For It" as well as Pete Youngs' ebook called "Fix It Up and Find a Fortune… A Step By Step Guide to Creating Wealth Through Real Estate". You'll get a download link in your email once you subscribe and verify your email address. And don't forget, Don and Pete will be our keynote speaker at our Atlanta REIA Main Meeting on Monday, March 7th at the W Hotel Atlanta Perimeter.