Archive for June, 2021
Posted on June 21, 2021 by
Mon, June 21st @ 6:30 PM – Hudson Grille, Sandy Springs, GA
"Find Your Fit"
in Real Estate Investing
with

Roger Blankenship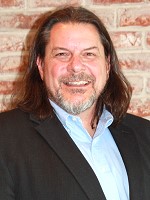 Join us at the Beginning Investors Group (BIG) on Monday, June 21st at 6:30PM at the Hudson Grille in Sandy Springs located at 6317 Roswell Rd in Sandy Springs with our special guest speaker, Roger Blankenship, who will be discussing "How to Find Your Fit in Real Estate Investing!"
"Hi I'm Roger Blankenship, Host of the nationally syndicated radio show, "Flipping America" and I'm going to be in Atlanta Monday, June 21st, 2021 at the Beginning Investors Group (BIG) to talk about getting started in real estate investing. Although my show is called Flipping America, I don't believe flipping houses is for everyone. In fact it's not ideal for most people. But I do believe that everyone – including you – should consider real estate as a part of a balanced investment portfolio.
We have documented at least 86 career paths in real estate and real estate investment. Many of those have variations with different asset classes and strategies. I honestly believe there are more than a thousand ways to make a million dollars in real estate. One of them is probably right for you.
But how do you figure this out? I've watched hundreds of people over the years and seen people both flourish and flop. I've also seen some of the people who failed at one thing do really well at a different thing. And I've started noticing patterns among people who do well. So a couple of years ago I started building profiles of successful people in different areas – wholesalers, flippers, builders, rental investors and lenders. What we have learned is that successful people in each area have certain characteristics and life situations. Those who lack those qualities struggle and usually don't do well.
What if there was a way every person could figure this out BEFORE they begin? Perhaps we could help people save time and money by pointing them in a direction that gives them a better chance of succeeding. This thinking led to the "Find Your Fit" Presentation I'm bringing to Atlanta Monday night. I will be speaking at the Beginning Investor Group, a sub-group meeting of the Atlanta REIA. The meeting begins at 6:30 pm at the Hudson Grille in Sandy Springs. After the presentation I'll stick around and answer every question anyone has about getting started in this great business. My personal goal is to train 1000 real estate millionaires. And I hope YOU will be one of them! See you at BIG!
Your daily routine should consist of enhancing your mental, physical and emotional health. With a consistent routine, everything aligns in the right direction. By applying all of these actions, this will change your Life!! There will be distractions, life will happen, but your WHY should keep you on the right path!"

The Beginning Investors Group (BIG) is an educational and networking group for new investors who are just getting started in real estate investing as well as "new again" real estate investors who've taken a few years off and are looking to get back in the game.

BIG is hosted by Dustin Griffin who will be bringing in local and national real estate experts to teach new investors how to survive and thrive in our ever changing economy and real estate market. The entire purpose of the group is to help new investors get their first deal and help new again investors get their next deal.
This is a "dinner" group and we kindly request that you buy dinner and/or drinks since the Hudson Grille allows us to meet there. There will be lots of learning and lots of networking. Bring your deals and your haves, wants and needs to the meeting for discussion.
As always, Atlanta REIA Member can attend the meeting at no charge and not-yet-members can RSVP Online for $15 or pay $20 at the door.
Posted on June 8, 2021 by
Sat, June 19th in Tampa, FL
– Attend In Person or Online
How to Buy Income Producing Commercial Real Estate From Home Without Using Your Own Cash or Credit
A Half Day Commercial Real Estate Master Class with

Marco Kozlowski
Atlanta REIA Members Can Attend Online for $29.
Join Atlanta REIA or Renew Your Membership Between June 1st & 19th and Attend at NO CHARGE!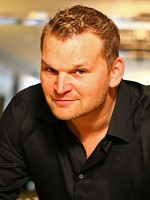 Due to the incredible response we've received from Marco Kozlowski's presentation at Tampa REIA last month on how to find discounted U.S-based real estate and buy as many units as you want, using NONE of your own money…
TAMPA REIA is excited to announce that we've asked Marco to come back for an encore presentation. This time, it's a full, 3-hour masterclass on Saturday, June 19th from 9AM to NOON at the Doubletree Tampa Rockypoint Waterfront located at 3050 North Rocky Point Dr. West in Tampa, FL or Online via Zoom Webinar.
Register for the Commercial Master Class Now!
In this Master Class, Marco's going to show you:
How to exclusively use other people's money to buy as many multis as you want, regardless of credit.
Case studies on how this was done (he has hundreds of video testimonials of successful students, and new deals every week)…
How to get heavy discounts on multis, starting today…
How to pull thousands out at closing on your 1st deal…
How to guarantee your results (as long as you follow a step by step process…)
How you can do ALL of it part time… never leaving your house… on your laptop (yes, including closing)
Ask as many questions as you like so you can start immediately
This is the best system I've seen if you want to add a new passive-income source to your life (or get WAY more units if you're already an investor)…
… That can not only protect you against economic downturns like we're in now… but allow you to profit from them FAR more than during normal economic times (while feeling good about helping people at the same time.)
His average student is able to retire in about 3 years. With what's coming, he expects that time to be cut in half.
Obviously we can cover Marco's system in a LOT more detail with a full 2-hour masterclass, so I highly recommend you block out a couple of hours tonight, turn off distractions, and watch it in full.
Register for Marco's Master Class Here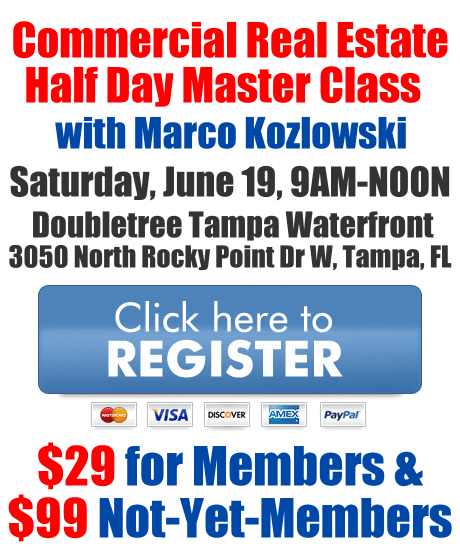 *PLEASE NOTE: Tuition price will increase and will be per person after Early Registration Expires. Register now and save! You can choose to attend In Person or Online during checkout.
BTW, if you're interested in Marco's system and are wondering how you can get started, he gives you a way to get his help buying your first 3-5 unit property.
It will "net" about $200 per month (per unit), meaning your first asset will generate $600 – $1,000 per month… forever.
Oh, and he'll show you how to pull out $3,000 at closing (which is more than the cost of the program).
If you believe in the power of real estate to make you wealthy and want more passive-income in your life, this is a no-brainer. Register for Marco's Master Class Now!
Posted on June 3, 2021 by
Sat, June 5th Workshop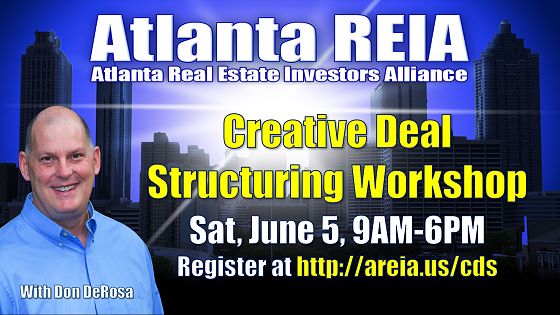 Creative Deal Structuring
How To Make the Most of the Upcoming Tsunami Of Foreclosures
Learn How to Structure Creative Deals Like a BOSS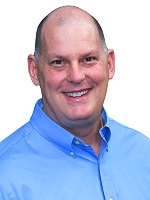 With housing inventory at an all time low, it has become increasingly more difficult to find deals. Notice I didn't say GOOD deals, I said deals in general. If you are homeowner, in the market to buy a house, it can be a very frustrating task. Especially when it seems everyone is bidding on the same home and willing to pay ridiculous prices. It can be even worse if you don't have the cash to compete with buyers that do. However, this is about to change. I am about to change your life and how you look at real estate deals forever.
Fortunes are NOT made when you buy in a SELLERS market. Fortunes are made when you buy in a BUYERS market and then, sell in a Sellers market. With the number of mortgage defaults at the highest level it's been since 2008 the writing is on the wall. As an investor you need to be prepared. Prepared to take full advantage of the upcoming chaos that is about to happen. But, in order to take advantage of this chaos you must be armed with the proper tools and the exact steps to take before it hits. That is why I have created this brand new seminar on the how to handle this foreclosure tsunami like a BOSS.
While everyone is fighting over the small pool of retail buyers there is an entire segment of homes that will need solutions to their financial problems. These homes do not fit the normal mold of a good retail sale. They may possibly be over leveraged, need repairs and are in severe financial distress, which most retail homeowners won't want to deal with or even know how, but are ideal for the smart educated creative investors. Time to elevate your game.
At this event you will learn:
How to buy real estate without using banks using creative techniques, even if you have no cred or cash
How to attract the most motivated sellers to call you
How to prescreen them like a Pro, so you don't waste time on non-motivated sellers
What questions are the right ones to ask the Seller and which ones get you nowhere
How to evaluate COMPS, determine "After Repair Value" and calculate guaranteed profit
How to make sure you NAIL your repair cost in this rapidly rising lumber price market
How to formulate 3 different offers on every home you want to buy
How to get a wholesale profit of 5k or more, and keep the property for cash flow as well
What are the 11 creative BUYING strategies every investor must know, like "Sub To" wrap around mortgages, Sandwich Lease Options, etc…
Why someone will be glad to give you the deed to their home, in fact they may even pay you to take it off their hands (Yes this happens)
How to create three different pay days on every deal that you do. (Upfront, cash flow and backend)
How to match the BUYING strategies with the seven main SELLING strategies to make you recession proof.
Why the due on sale clause is not as important as you originally thought
And a whole lot more…
Once you learn these time tested strategies and techniques you will be able to take this market by storm and ride this massive wave straight to the bank.
Come join me on Saturday, June 5th from 9am – 6pm
I look forward to seeing you all there. Register Now!