Archive for December, 2019
Posted on December 4, 2019 by
Mon, December 9th
from 5PM-9PM in Atlanta, GA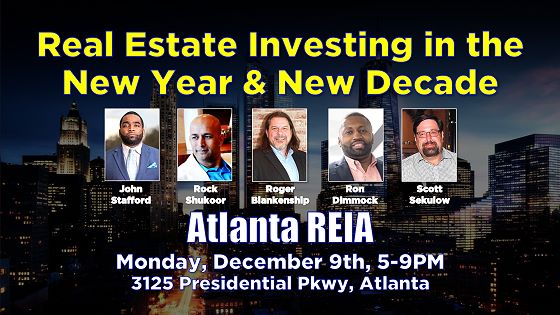 Atlanta REIA Main Meeting
& Vendor Trade Show
Expert Panel Discussion on…
Real Estate Investing in the New Year & the New Decade!
with REI Experts

John Stafford

,


Rock Shukoor

,

Roger Blankenship

,


Ron Dimmock

&

Scott Sekulow
RSVP on Facebook or RSVP on Meetup
Atlanta REIA Members Can Attend for no charge.
Guests Can RSVP Online Now for $20 or Pay $25 at the Door.
The end of the year is here. The end of the decade is here. It's that time of the year when we look backwards, revisit the past and where we've been and plan for the future.
If you'd like to make 2020 and the next decade your BEST EVER, please join us on Monday, December 9th from 5PM to 9PM at the Atlanta REIA Monthly Meeting at 3125 Presidential Pkwy, Atlanta, GA with an All-Star Panel of Real Estate Experts.
We will be discussing their (and your) real estate investing plans for the future and and where they see the market headed in the short-term and long term!
Our Expert REI Panel
| | | | | |
| --- | --- | --- | --- | --- |
| | | | | |
| John Stafford | Rock Shukoor | Roger Blankenship | Ron Dimmock | Scott Sekulow |
RSVP NOW and come join us to work together in the New Year and the New Decade to make our collective futures the best ever!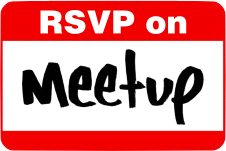 *Meeting Day Agenda
7:15 pm: Networking Break
*Please Note: Meeting agenda is subject to change.
As always, Atlanta REIA Members can attend our Main Meeting event at no charge and Non-Members can Register Online for $20 or pay $25 at the door. Be sure to bring your business cards and flyers and join us for an evening of real estate deals, vendors, networking, education and fun on Monday, December 9th! See you there!
Meeting Before the Meeting
The High Tech Home Buyers Creative Deal Makers Subgroup
How to Better Manage Your Time & Priorities
with

Don DeRosa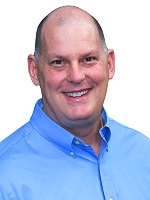 Join Don DeRosa every month at 5PM SHARP at our Meeting-Before-the-Meeting that we like to call the High Tech Home Buying Creative Deal Structuring Subgroup one hour BEFORE the Atlanta REIA Main Monthly Event.
Where does your time go and how do you manage it? In this session, Don will discuss where your time goes and how to successfully manage it to put the MOST important things first. Don is going to show you how to organize you life using a simple to use system for organizing and prioritizing everyday stuff. He is going to show you how you can use simple apps, to eliminate all the paper in your life and become infinitely more organized. Here are some things you will learn:
How to identify your biggest time wasters and how to eliminate them once and for all
What apps he recommends to get organized
How to use a day planning system so that you never lose anything ever again
How to prioritize you daily action list using eight simple questions
Each month, Don will teach you about different real estate investing purchase and sale strategies to put more money in your pocket as as well as state-of-the-art tools and techniques you'll use to evaluate deals and figure out how to make them work. You'll learn to work less and earn more so you can spend more time where you want, when you want and with whom you want.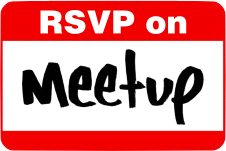 Monthly Vendor Trade Show

At 5:00 PM in the Main Lobby, we have a Vendor Trade Show that lasts throughout the meeting where you can come out and meet many of our participating Business Members and Vendor Guests who help sponsor our meeting. See a full list of our vendors and sponsors below as they are added.
Vendor tables are limited, so any vendors wanting to reserve a table for the meeting can RSVP for a Vendor Table here. Vendor tables are reserved and setup on a first-come, first-serve basis.
What's Happening at Atlanta REIA

Starting at 6:00 PM, Dustin Griffin kicks off the Atlanta REIA Main Monthly Event with updates and announcements. Dustin covers what's happening at Atlanta REIA in the upcoming weeks and months such as upcoming workshops, webcasts, special events, members benefits and much more! Be sure to be in the main meeting room at 6:15 PM for your chance to be one of the first to receive a printed copy of The Profit Newsletter while supplies last.
Haves & Wants Marketing Session

At approximately 6:30 PM, Joe Thompson will be hosting the Haves & Wants Speed Marketing Session which gives our members the opportunity to quickly market deals they HAVE and to find deals they WANT. We also give our business members the opportunity to get up and say a few words about their businesses. Members who want to participate in the Haves & Wants Marketing Session must bring your flyers and get to the meeting early to get on Joe's list of participants.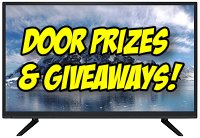 Door Prizes & Giveaways for Atlanta REIA Members!*
All Atlanta REIA Members who check in and attend the Atlanta REIA Meeting will be entered into a drawing for a chance to win a Flat Screen LED TV, a variety of Gift Cards (such as Home Depot, Lowes, Walmart, Amazon, etc), Flashlights, Phone Chargers and all sorts of other miscellaneous items that vary from meeting to meeting each month. *You must be present and in the room during the drawing to win. Door prizes and giveaways can change at any time for any reason. Non-Members and Vendors are not eligible to win.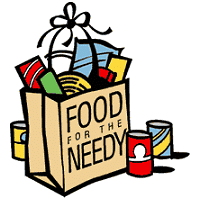 Help Feed the Homeless & Needy Here in Atlanta*
Atlanta REIA Members who bring in 5 canned goods will get an extra ticket for the drawing. Bring in 10 canned goods and get 2 tickets, etc. The current limit is 5 additional tickets for 25 canned goods. Please do not bring in any canned goods that are expired or expiring soon. We reserve the right to change the terms and conditions of the giveaways at any time for any reason.
Late Nite Networking After Meeting at
Three Dollar Cafe

After the conclusion of the Atlanta REIA Main Meeting, we will be reconvening at 9:30 PM at Three Dollar Cafe located at the 3537 Chamblee Tucker Rd in Atlanta, GA for the Late Nite Networking and the "Meeting-After-The-Meeting"! There is no charge for Atlanta REIA Members or guests to attend Late Nite Networking, so bring a friend and head on down to Late Nite Networking and have a cold brew with us! Just be sure you order food and beverages from the restaurant and please tip their wait staff generously.
Atlanta REIA Sponsors

New Western Acquisitions – A full service Real Estate Brokerage that specializes in helping investors in acquiring inventory, securing contractors and lenders, as well as aiding in the liquidation of these assets. Read More>>

Auction.com – The nation's leading online real estate marketplace, having sold over $34 billion in real estate assets. Auction.com's mission is to provide the most trusted online real estate marketplace, making transactions easier and more transparent. Read More>>

Networth Realty of Atlanta, LLC – A licensed, full-service residential wholesale brokerage that specializes in finding quality wholesale properties and making them available to you. Read More>>

Goldmine Properties, Inc. – As Atlanta's first full service real estate wholesaler, we offer wholesale property at 65% loan to value, with financing available. Purchase price and repairs are 65% of certified after repaired appraisal. Read More>>
Trade Show Vendors

CRS Data – We offer comps from the MLS & FSBO's, custom searches, property tax records, interactive maps, sales & mortgage info, real estate valuations, mailing lists & more. Read More>>
EquityMax.com
Jenkins Contruction, LLC
770 Hard Cash