Archive for March, 2021
Posted on March 25, 2021 by
Thu, March 25th @ 7PM – LIVE IN-PERSON & ONLINE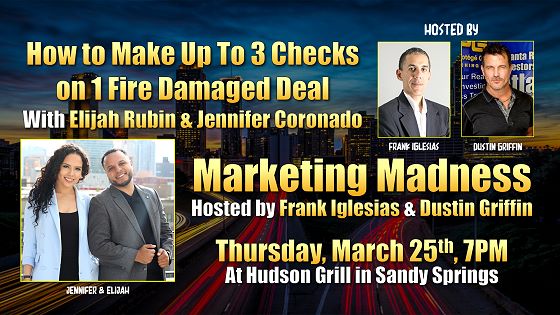 Fire Damaged Deals
Learn 3 Ways to Profit on 1 Fire Damaged Property

with

Elijah Rubin

&

Jennifer Coronado
Atlanta REIA, Tampa REIA, Savannah REIA & Chattanooga REIA Members can attend at NO CHARGE. Not-Yet-Members can Attend In-Person or Attend Online for Only $20!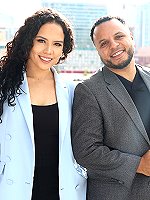 Our Marketing Madness Event is BACK LIVE & IN-PERSON on Thursday, March 25th at 7PM ET at the Hudson Grille in Sandy Springs located at 6317 Roswell Rd in Sandy Springs. We will also be doing our best to broadcast the meeting live ONLINE via Zoom Webinar.
This month, our special guests will be Elijah Rubin & Jennifer Coronado who will be discussing "How to Make up to Three Checks on One Fire Damaged Deal".
Elijah Rubin & Jennifer Coronado live in Phoenix, AZ with their daughter Sophia. They are a committed couple who have closed over 750 Properties combined and in the last 16 years with over $250 million worth of transactions completed. They are Real Estate & Sales Experts who specialize in the exclusive niche of Fire Damage Investing.
At the Event, Elijah & Jennifer will discuss…
Why you should pursue fire damaged leads
How to find fire damaged leads anywhere
How to negotiate these fire damaged leads and get up to three checks per deal
Answers to your questions and much lot more!
You do not want to miss this session! Elijah and Jennifer will take us deeper into this curious and oftentimes misunderstood niche of real estate. Sadly fires happen regularly which means you have opportunities to help Sellers out to make the most of a bad situation for mutual benefit. Come learn how you can be the one to make the most of it! See you there! RSVP Now and join us in-person or online!


Marketing Madness is hosted by Dustin Griffin & Frank Iglesias who will be bringing in local and national real estate experts and marketers each month to teach investors how to consistently market for deals in order to survive and thrive in our ever changing economy and real estate market. The entire purpose of the group is to teach investors how to be Marketers, aka "Lead Generating Machines", so they can have an unlimited source of leads and potential income.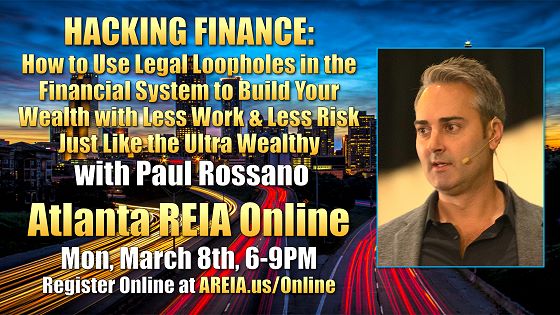 At this month's Atlanta REIA Online Webinar on Monday, March 8th from 6PM – 9PM, Paul Rossano will be our special guest speaker where he will teach you "How to Make The Financial System Build Your Wealth For You On Auto-Pilot Without Investing".
That's a BOLD promise! Anyone who is familiar with George Antone and his proven advanced strategies know they are in for a treat because George always fulfills on his bold promises!
George, a 3-time best-selling author and thought leader in the finance and investing space, has blown the lid off a new paradigm no one is teaching; or even talking about, until now!
Imagine low-risk and low-stress strategies that are implemented one time and placed on autopilot to work FOR you starting ASAP – all in 6 hours or less per month!
In fact, keep reading for a $100k+ strategy that will be revealed in this presentation!
No, this is not a "get rich quick" strategy, but a fascinating way to tweak finance to make it work for you in amazing ways!
The traditional methods of building wealth can be grouped into 3 main categories: Investing, Trading and Saving. These traditional methods work; however, they require a lifetime commitment of learning and implementation.
George has been working on this new paradigm, a 4th method, called "Hacking Finance" – that promises the ability to LEARN and IMPLEMENT each financial strategy within a total of 6 hours or less, and then place it on autopilot to keep working for you!
…and you are about to walk away with one of these $100k+ "shortcuts" just from this presentation! This is NOT an overnight $100k+ strategy, but something you implement one time, and it builds over a number of years into $100k or more on autopilot.
What if you are already investing or lending? Quite simply, these methods will increase your existing returns tremendously! Come discover from George's #1 trainer how to boost your yields by combining this system with your existing investments!
That's exactly why we're excited to have Paul Rossano, George's top trainer, doing an exclusive training for us month; sharing this unique and creative new way to approach finance and investing.
Paul will be sharing tons of info about this new paradigm, and he'll even give you details for ONE of those strategies that banks use (called "floats"), that you can use to skyrocket your wealth.
Paul will demonstrate what you need to do the very next morning at your local bank to increase your wealth by $100k+ over a number of years on autopilot without the stress of risky investments… and this is just ONE of MANY strategies!
Some people work hard. Others work smart. This is working smart!
If you want your path to economic freedom made easier, then this is something you cannot afford to miss out on! It just might be what you are looking for!
With a few financial tweaks and this different approach, you'll find you have more time and money to work with than you thought.
Leap forward financially with less risk, less stress, and more time to enjoy life!
Register for this Atlanta REIA Training Webinar below and experience what George's inner circle is using to build their wealth and peace of mind, in a relatively short period of time.
This is truly powerful stuff to know and we're excited it's being shared with us!
These are just a few of the gems you will learn from Carson, so Register to Attend Now and join us Online on Monday, March 8th from 6 to 9PM. See you there!
*Please Note: Meeting agenda is subject to change.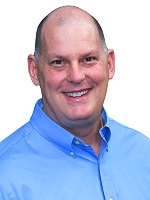 Join Don DeRosa every month at 6PM SHARP at our Meeting-Before-the-Meeting that we like to call the High Tech Home Buying Creative Deal Structuring Subgroup  that meets one hour BEFORE the Atlanta REIA Main Monthly Event.
Here is a message from Don regarding of this month's Meeting Before the Meeting topic…
"Every day I am asked where I think the economy is headed and my answer is always the same. We are headed into a transitional market. By transitional I mean a market that is slowly transitioning from a full blown sellers' market to more of a buyers' market. The million-dollar question is WHEN.
By all accounts the housing market on the surface is showing no signs of slowing down BUT what you may not see is unemployment is still very high, mortgage forbearances are still climbing, and evictions are still being delayed.
Also, COVID-19 is still very much a factor in supply and demand causing things like building supplies to skyrocket from just a year ago. This is all creating an iceberg effect. Little to no issues on the surface but giant issues beneath surface.
When you factor all of this together, in my opinion, we are creating the perfect storm. Like the Titanic the passengers are laughing and having a grand ole time, but below deck the ship is taking on water.
Homeowners are masking the issues with the governments so called HELP by delaying the inevitable. So, when this happens what MUST investors be doing to prepare for the inevitable. That question is also a SIMPLE answer. Learn to buy houses using owner finance techniques such as "Subject to", "Wrap Around Mortgages" and several other no money down techniques.
At this meeting I will show you why you absolutely MUST learn how to buy using these techniques.
You will learn:
Who it is going to effect
What you should be doing to prepare for this inevitability
When you need to start preparing
And How you need to do it
You will learn how using these techniques will save homeowners and, in the process, you won't needs banks or credit to buy these houses when the ship starts to sink. The last thing you want to be is NOT prepared. Take action today so you can be a life raft to many who will soon need you.

Join us at the Meeting-Before-the-Meeting each month where Don will teach you about different real estate investing purchase and sale strategies to put more money in your pocket as well as state-of-the-art tools and techniques you'll use to evaluate deals and figure out how to make them work. You'll learn to work less and earn more so you can spend more time where you want, when you want and with whom you want.