Archive for June, 2014
Posted on June 10, 2014 by
Thurs, June 19th @ 5:00 PM at Azalea Park, Roswell, GA
Atlanta REIA BIG Cookout
With Peter Fortunato & Bill Cook
June 19 @ 5PM Azalea Park Roswell
All Members & Guests Must RSVP Online to Attend
The Atlanta REIA and Beginning Investors Group (BIG) are hosting our 2nd Annual Atlanta REIA BIG Cookout on Thursday, June 19th, 2014 from 5:00PM to 10:00PM at Azalea Park located at 475 Azalea Dr, Roswell, GA in Pavilion #1. In addition to lots of food, folks and fun, we will also have vendors and giveaways and two very special guest speakers. Registration is $15 for Atlanta REIA Members and $25 for Guests.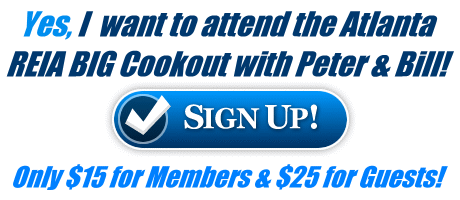 We are very, very excited to announce that we will have the "Ultimate" Creative Deal Structurer, Mr. Peter Fortunato speaking on his favorite topic, Creative Deal Structuring, along with our very own local real estate investing expert, Bill Cook!
Bill, who is also the President of North Georgia REIA and a contributor to The Profit Newsletter, will be discussing door-knocking for real estate leads, making offers, and his upcoming Atlanta REIA Door Knocking Event to be held on Saturday, June 28th, 2014.
Whatever plans you may have for Thursday evening, change them! This is fun, festive educational even that you do not want to miss. Rarely do we get to learn from not one, but two extraordinary creative real estate deal structurers. Not only will Bill and Pete be doing a presentation, but they will also be hanging out late, networking with our attendees and answering as many good questions as you can bring.
Come on down for this very special occasion! Fox Brothers BBQ will be cooking up some delicious BBQ Beef Brisket, Chicken and Chicken Wings with side dishes. This event is NOT TO MISS! We'll have great food, along with some terrific information that you can use immediately on your road to success.
PLEASE NOTE: All Atlanta REIA Members and Guests must RSVP to attend. Please RSVP ASAP so we know how much food and beverages to order. Registration price is $15 for Atlanta REIA Members and $25 for Guests. This price does includes food and beverages, but feel free to bring your own as well. Also, you might want to bring lawn chairs since seating is limited under the pavilion.

For those of you that don't know Peter, he is one of the greatest creative real estate investing minds in the country. Peter teaches creative real estate investing ideas, techniques and strategies that are truly unlike all other real estate trainers. What he teaches will allow anyone to quickly build an income stream from real estate assets and allow them to become financially independent by purchasing well selected real estate that will bring the income for many years to come.
While in Atlanta, Peter will be hosting his Real Estate Acquisition Techniques Class on June 21st & 22nd from 9:00 AM to 5:00 PM.
*Event Agenda
5:00 pm: Networking & Introductions

5:30 pm: Dinner Is Served
5:50 pm: Vendor Speakers +Prizes & Giveaways
6:35 pm: Our Very Special Guest Speaker, Mr Peter Fortunato
8:15 pm: Door-Knocking with Bill Cook
9:05 pm: Closing Comments from Dustin Griffin
*Please Note: Meeting agenda is subject to change.
Special Thanks To Our Sponsors
Come meet our participating business members who help sponsor this celebration. Please stop by their tables during the cookout. Thank you very much sponsors!

American IRA – The American IRA mission is to provide the highest level of customer service in the self-directed retirement industry.
Read More>>

Goldmine Properties, Inc. – As Atlanta's first full service real estate wholesaler, we offer wholesale property at 65% loan to value, with financing available. Purchase price and repairs are 65% of certified after repaired appraisal. Read More>>

Duffy Realty of Atlanta Real Simple. Real Savings. Real Results. Selling or buying a home has never been easier or cost less! Join other Atlanta sellers and buyers experiencing real estate in the 21st century using technology and methodology that produces results. Read More>>

Solutions Realty Network – Providing expert property management and investment services since 2003. You invest and we take care of the rest! We're the solution to all your real estate needs. Read More>>

Halperin Lyman, LLC – A transactional real property law firm devoted to providing the full spectrum of non-litigation related real estate legal and consulting services to its clientele. Read More>>
Networth Realty of Atlanta, LLC – A licensed, full-service residential wholesale brokerage that specializes in finding quality wholesale properties and making them available to you. Read More>>
We have openings available for only a few more sponsors. If you are interested, you can click here to Sponsor the Cookout. Thanks!