Archive for April, 2011
Posted on April 22, 2011 by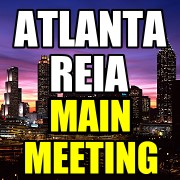 Our next Atlanta REIA Main Meeting is on May 2nd at the W Hotel Atlanta Perimeter starting at 5:30 PM. Because of our high attendance, this meeting is the perfect opportunity for you to get together and network with vendors and other real estate professionals; participate in our Speed Marketing Session to promote your properties or business; catch up on what's happening and coming soon at Atlanta REIA; and to hear and learn from some of the best real estate experts in the industry. If you are a serious, active real estate investor or professional, this is the one meeting of the month you don't want to miss.
Because our Main Meeting is our "Member's Main Meeting", we take member feedback for our meetings very seriously. This is one of the reasons our meetings are so well attended. We are constantly asking our members what they would like to see, hear or do at our main meeting and we have consistently been getting these two requests that we are fulfilling this month:
Question #1: "Can we have a town hall style discussion with real estate industry experts in addition to the keynote speaker presentations we already have?"
Answer #1: YES! On May 2nd, we are having an Expert Panel Discussion with 3 Attorneys who are all real estate investor friendly, who know GA law inside and out and will help keep you compliant with the ever changing rules and regulations such as the SAFE Act, MARS Rule, etc and keep you out of legal trouble. We are also having a Certified Public Accountant sit on the panel who will help you earn and keep more money by saving you money in taxes. Our Expert Panel will include:
Question #2: "Can we go to the Tilted Kilt for the meeting after the meeting?"

Answer #2: YES, ABSOLUTELY! Atlanta REIA volunteer, Lee Budden, is making arrangements with the Tilted Kilt Perimeter located at 1155-B Mount Vernon Highway in Atlanta (about 1/2 file from W Hotel) to accommodate as many of our members and guests as possible for the Late Nite Networking Meeting After the Meeting on May 2nd at 9:30 PM until late. We hope you will come eat, drink and network with us until late into the nite!