Archive for September, 2021
Posted on September 16, 2021 by
Happening at Atlanta REIA
Atlanta's Most Active LIVE, In Person
& Online REIA Club!
UPCOMING EVENTS
Monday, September 20th @ 11:30AM (LIVE & In-Person in Dunwoody): The Atlanta Landlord Luncheon meets at HOBNOB Neighborhood Tavern located at 1221 Ashford Crossing, Atlanta, GA.

This month's topic will be "How & Why to Buy & Hold Rental Properties" with Chris Littleton of PMI Georgia. Chris will discuss choosing the best way to own your rental properties as an investor!

Chris will discuss using sole proprietorships, partnership, LLCs, corporations or trusts to hold your properties. Also When, What, Where, Why and How should these entities should be used as well as the Ins, Outs and Doubts of what is best for rental property ownership.

The Atlanta Landlord Luncheon is hosted by Chip Cagle of Bay Mountain Capital and Chris Littleton of PMI Atlanta and meets on the 3rd Monday of each month for lunch at 11:30AM.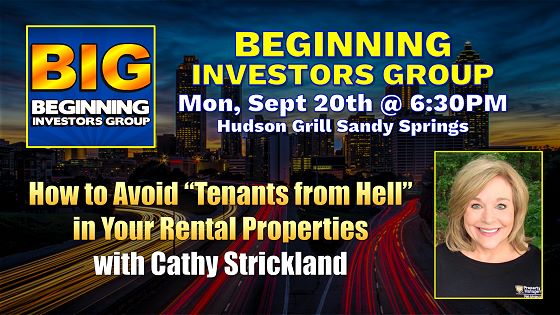 Monday, September 20th @ 6:30PM (LIVE & IN PERSON IN SANDY SPRINGS!): The Beginning Investors Group (BIG) meets LIVE & IN PERSON at Hudson Grille in Sandy Springs with Kathy Strickland on "How to Avoid 'Tenants from Hell' in Your Rental Properties".

It is more important than ever to ensure that the people who are applying to live in your properties are who they say they are, they earn the money they claim to earn, and they are financially responsible.

Cathy says "Out of every ten applications I receive, at least five of them contain fraudulent information—fake paystubs, false employment/income data, false ID documents and false rental history. Fortunately, there are resources online and methods to help you prove or disprove the information on the application.

I will show you how to recognize altered and fake paystubs, false IDs, offer letters, disability documents and court documents and how to recognize warning signs on the application. I offer a list of websites that I use to confirm or deny the legitimacy of the information on the application. I also discuss the importance of applying these methods fairly to all applicants to ensure compliance with fair housing laws.

RSVP NOW and Join Us at BIG with Cathy to discuss the tenant screening process and how you can avoid putting bad tenants in your properties!

Atlanta REIA Members can attend at no charge. Non-Members can pay $15 online or $20 at the door. RSVP NOW at http://bigticket.atlantareia.com.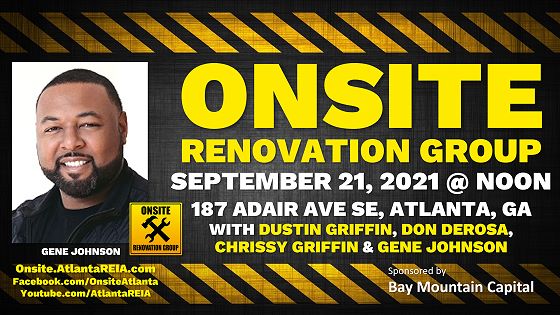 Tuesday, September 21st @ NOON (LIVE in Lakewood): Onsite Renovation Group with Dustin Griffin, Don DeRosa, Chrissy Griffin & Gene Johnson. We will be meeting at Gene's latest rehab project located at 157 Adair Ave SE, Atlanta, GA.

Atlanta REIA Members can attend at no charge. Non-Members for $15. RSVP at http://rsvponsite.atlantareia.com.

The Atlanta REIA Onsite Renovation Group is sponsored by Chip Cagle of Bay Mountain Capital. Thanks Chip!

Wednesday, September 22nd @ 7PM (ONLINE ONLY): Property Protege Group Coaching Online with Don DeRosa & Christine Griffin will meet online only at http://AREIA.us/PPG at 7PM. The topic is to be announced. Come join us to kickstart your real estate investing career! Attend your FIRST PPG meeting at NO CHARGE.

Thursday, September 23rd @ 1:30PM (LIVE & IN-PERSON in Sandy Springs): Haves & Wants Meeting is LIVE and IN PERSON with Joe Thompson at Hudson Grille in Sandy Springs. Bring Your Deals, Business Cards, Flyers & Come Network and Make Deals Happen with us once again!

Post Your Deals or Find Deals on Our Facebook Groups. Be sure to join 1) Atlanta Real Estate Investors Network, 2) Georgia Real Estate Investors Network, 3) Atlanta Wholesale Real Estate Deals & 4) Georgia Wholesale Real Estate Deals.
Posted on September 7, 2021 by
Sat, Sept 11th Broadcast Live from Tampa, FL
Buying Houses "Subject-To"
in Today's Real Estate Market

Don't Miss This All Day
Online Workshop with Don DeRosa
Sat, Sept 11th from 9AM-5PM
Atlanta REIA Members can Attend ONLINE for Only $29. RSVP Now!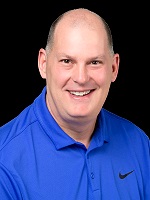 My name is Don DeRosa. I am a real estate trainer, mentor and full-time real estate investor actively buying, selling and holding properties each month for huge profits and long-term cash flow. When I first started almost 24 years ago, I thought I wanted to be a wholesaler and flip contracts because I thought I needed a bunch of cash to buy and hold, or buy and rehab houses. I was like everyone else starting out in this business. I didn't have lots of money, so I thought wholesaling was the easy way to go.
Boy was I wrong. Fortunately for me I was introduced to a buying technique called "Subject-To" by a friend. This is a technique where the Seller deeds the property over to you (you own it) but leaves the loan in place and you simply continue to make the existing payments (you don't have to go to the bank and qualify).
Well I must say this technique changed my life. Within the first 30 days of learning the Subject-To technique I bought 4 houses for one dollar each (yes, you read that correctly) and I have been buying them that way ever since.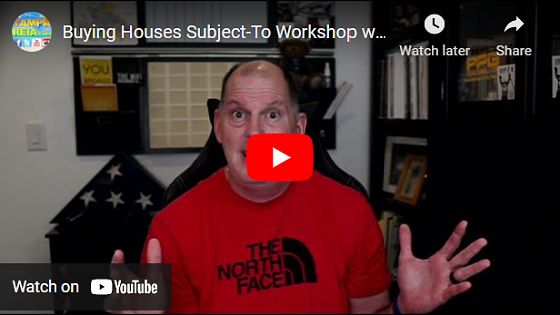 I no longer have to sell the "Golden Goose" to make lots of money. Today I am working furiously at buying properties "Subject-To" using the existing financing on the seller's home instead of having to go to a bank or a hard money lender for funding. This allows me to buy multiple properties fast, without coming up with all the purchase funds on the front end.
Subject-To is the perfect strategy to use in today's market where easy funding is not readily available for investors to buy pretty houses. Buying houses "Subject-To" the existing finances is by far the most powerful technique is real estate today. You can control and own an enormous amount of real estate with very little money. Understanding how to get sellers to finance your deals is the ultimate investment strategy.
If you're a person who doesn't have a lot of cash, or doesn't have good cred or simply doesn't want to use your cred, then you need to attend the upcoming Tampa REIA "Subject-To" Workshop where I will be teaching you how to effectively use this technique. Learning this technique may very well be a life changing event for you like it was for me.
Join me for the "Subject-To" Workshop on Saturday, September 11th from 9AM to 5PM and I will share with you, many of the Subject-To tools and techniques I use every day to create winning deals for myself as well as my buyers and sellers.
I will demonstrate how to apply these strategies, tools and techniques, and show you exactly how to evaluate the lead, determine your exit strategy, structure the deal, negotiate with the seller and get the paperwork done almost instantly and without any of the hard work you normally do to get your deals done.
By the end of the presentation, you'll know how to buy houses…
Without using your own cred
Without having to sign personally on a note
Without having to qualify for a mortgage
Without having much money
Also…
How to recognize a "Subject To" opportunity and buy with little or no money!
How to evaluate any lead and decide whether this is a winner for you and how much money you'll make before you make your offer
How to combine buying strategies and exit strategies – that work right now, in 2021
How to structure a deal in less than 10 minutes, so that you make a minimum of $20,000 on it, choosing from multiple purchase and exist strategies
How to determine the seller's hot buttons so you can craft a deal the seller can't refuse
How to use my proprietary tools to negotiate for you, so you never let your emotions talk you into making a bad deal!
And how to find all the money you need to do these deals so you have zero money out of your pocket.
Join me as I really, really drive these points home and give you all the Subject-To details you need to succeed in real estate investing. Once you are armed with my training and the tools, you will be able to do deals you never thought possible! RSVP NOW & DON'T MISS IT!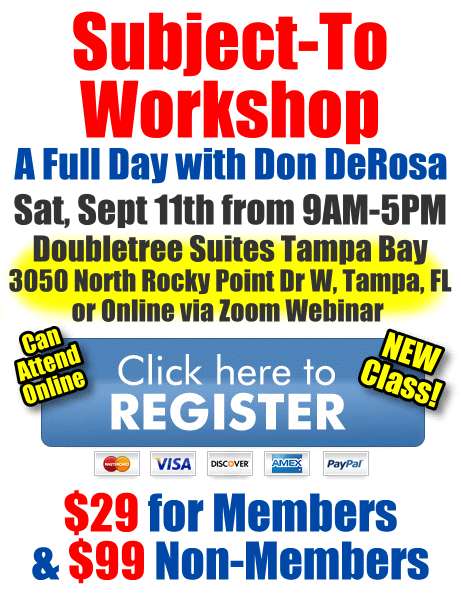 Don DeRosa is a real estate investor, author, teacher, coach and national speaker. Don has trained thousands of new and experienced investors to build wealth in real estate using the same techniques that helped him build his fortune, particularly buying with owner financing, using private money, creatively structuring deals and selling quickly in any market.