Archive for April, 2020
Posted on April 14, 2020 by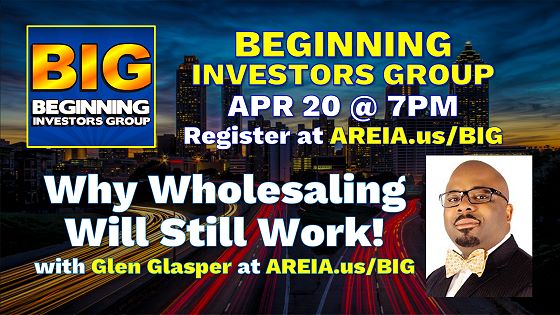 Why Wholesaling Will Still Work!
with

Glen Glasper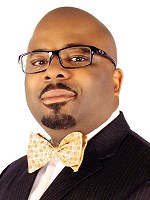 Join us at the Beginning Investors Group (BIG) on Monday, April 20th at 7PM ONLINE at http://AREIA.us/BIG with our special guest speaker, Glen Glasper, who is going to be talking about "Why Wholesaling Will Still Work" despite the pandemic we're in right now.
Despite what you may be hearing social media, wholesaling and flipping houses is NOT dead! Wholesaling (if done properly) has been and always will be a great strategy in real estate investing regardless of the market cycle.
Primarily, because real estate will always be bought, sold, rented and or traded on some level. The goal of a real estate investor that practices the strategy of wholesaling is to get in between those transactions.
In these stressful times, it is important to stay educated about the best practices of wholesaling and to be sure that everything is done with the highest of integrity and to always create win, win-win situations for all parties involved in the transaction.
Join me on the BIG Webinar and Glen will teach you…
Why wholesaling still works
Wholesaling best practices
Types of deals that can be wholesale
Virtual Wholesaling
JV Wholesaling
Register for the BIG Webinar NOW and join us to learn how to wholesale houses the right way, now during this pandemic and beyond!
As always, Atlanta REIA, Tampa REIA, Savannah REIA & Chattanooga REIA Members can attend the meeting at no charge and not-yet-members can RSVP Online for $15.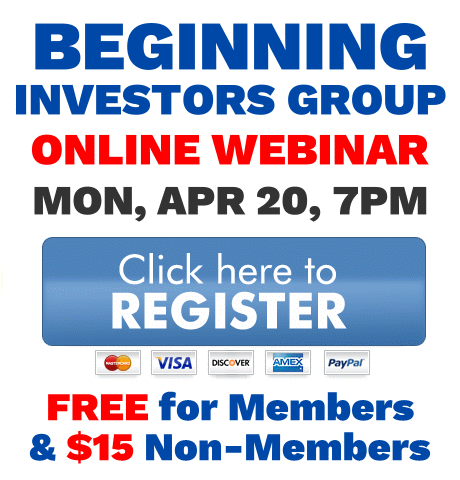 Glen Glasper, affectionately known as, "MrDollarOutofaDime", is a real estate entrepreneur, mentor, and coach with over 21+ years of experience involved in real estate investing.
Glen is the Founder of #RealLifeRealEstateInvesting. The organization birthed in 2016 with the purpose to educate people on the true ins and outs of the real estate business; "NOT as seen on TV", as well as, inspire individuals to believe that they can be successful despite the very REAL obstacles.
He hosts a real estate investing show every Wednesday at noon. You can catch it on on Facebook and Instagram Live, where he speaks to real estate investors from around the country on various topics of real estate investing.
The Beginning Investors Group (BIG) is an educational and networking group for new investors who are just getting started in real estate investing as well as "new again" real estate investors who've taken a few years off and are looking to get back in the game.

BIG is hosted by Dustin Griffin who will be bringing in local and national real estate experts to teach new investors how to survive and thrive in our ever changing economy and real estate market.The entire purpose of the group is to help new investors get their first deal and help new again investors get their next deal.
This is a "dinner" group and we kindly request that you buy dinner and/or drinks since the Hudson Grille allows us to meet there. There will be lots of learning and lots of networking. Bring your deals and your haves, wants and needs to the meeting for discussion.