Archive for Beginning Investors Group
Posted on June 21, 2021 by
Mon, June 21st @ 6:30 PM – Hudson Grille, Sandy Springs, GA
"Find Your Fit"
in Real Estate Investing
with

Roger Blankenship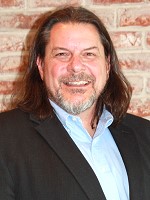 Join us at the Beginning Investors Group (BIG) on Monday, June 21st at 6:30PM at the Hudson Grille in Sandy Springs located at 6317 Roswell Rd in Sandy Springs with our special guest speaker, Roger Blankenship, who will be discussing "How to Find Your Fit in Real Estate Investing!"
"Hi I'm Roger Blankenship, Host of the nationally syndicated radio show, "Flipping America" and I'm going to be in Atlanta Monday, June 21st, 2021 at the Beginning Investors Group (BIG) to talk about getting started in real estate investing. Although my show is called Flipping America, I don't believe flipping houses is for everyone. In fact it's not ideal for most people. But I do believe that everyone – including you – should consider real estate as a part of a balanced investment portfolio.
We have documented at least 86 career paths in real estate and real estate investment. Many of those have variations with different asset classes and strategies. I honestly believe there are more than a thousand ways to make a million dollars in real estate. One of them is probably right for you.
But how do you figure this out? I've watched hundreds of people over the years and seen people both flourish and flop. I've also seen some of the people who failed at one thing do really well at a different thing. And I've started noticing patterns among people who do well. So a couple of years ago I started building profiles of successful people in different areas – wholesalers, flippers, builders, rental investors and lenders. What we have learned is that successful people in each area have certain characteristics and life situations. Those who lack those qualities struggle and usually don't do well.
What if there was a way every person could figure this out BEFORE they begin? Perhaps we could help people save time and money by pointing them in a direction that gives them a better chance of succeeding. This thinking led to the "Find Your Fit" Presentation I'm bringing to Atlanta Monday night. I will be speaking at the Beginning Investor Group, a sub-group meeting of the Atlanta REIA. The meeting begins at 6:30 pm at the Hudson Grille in Sandy Springs. After the presentation I'll stick around and answer every question anyone has about getting started in this great business. My personal goal is to train 1000 real estate millionaires. And I hope YOU will be one of them! See you at BIG!
Your daily routine should consist of enhancing your mental, physical and emotional health. With a consistent routine, everything aligns in the right direction. By applying all of these actions, this will change your Life!! There will be distractions, life will happen, but your WHY should keep you on the right path!"

The Beginning Investors Group (BIG) is an educational and networking group for new investors who are just getting started in real estate investing as well as "new again" real estate investors who've taken a few years off and are looking to get back in the game.

BIG is hosted by Dustin Griffin who will be bringing in local and national real estate experts to teach new investors how to survive and thrive in our ever changing economy and real estate market. The entire purpose of the group is to help new investors get their first deal and help new again investors get their next deal.
This is a "dinner" group and we kindly request that you buy dinner and/or drinks since the Hudson Grille allows us to meet there. There will be lots of learning and lots of networking. Bring your deals and your haves, wants and needs to the meeting for discussion.
As always, Atlanta REIA Member can attend the meeting at no charge and not-yet-members can RSVP Online for $15 or pay $20 at the door.