Archive for March, 2020
Posted on March 30, 2020 by
Friday, April 3rd @ 7PM on Zoom Webinar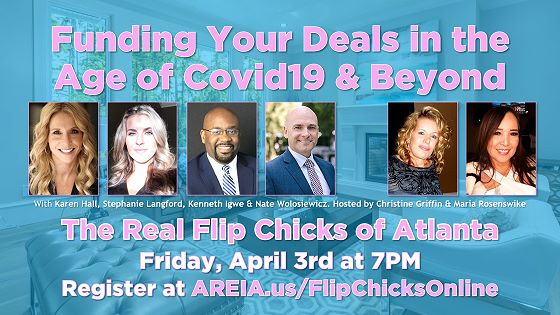 Real Flip Chicks of Atlanta
Friday, April 3rd, 7-9PM ONLINE
Register at AREIA.us/FCOnline
Funding Your Deals in the Age of Covid19 & Beyond
Who's Still Lending & What's Changed?
with the

Karen Hall

,

Stephanie Langford

,

Kenneth Igwe

&

Nate Wolosiewicz
Join us at the The Real Flip Chicks of Atlanta Meeting on Friday, April 3rd at 7PM on Zoom Webinar where we will be having a Panel Discussion on "Funding Your Deals During the Age of Covid19 & Beyond".
Our panel will consist of lending experts Karen Hall with Ameris, Stephanie Langford with DFW Hardmoney, Kenneth Igwe with Baker Collins & Nate Wolosiewicz with Civic. We will be discussing what lending requirements have changed due to the pandemic and how it will affect getting your deals funded now and in the near future.
Atlanta REIA Members & Guests can attend this month at No Charge. Register at AREIA.us/FlipChicksOnline.
The Lender Panel
| | | | |
| --- | --- | --- | --- |
| | | | |
| Karen Hall | Stephanie Langford | Kenneth Igwe | Nate Wolosiewicz |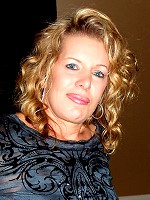 The Real Flips Chicks of Atlanta is a new group of like-minded, entrepreneurial women striving to achieve financial freedom through real estate investing, who come together to support and empower each other. Flip Chicks is led by Christine Griffin and Maria Rosenswike and hosted by Dustin Griffin.
This group is for women who wholesale houses, fix and flip homes and/or buy and hold rentals or vacation properties.
Whether you have been investing in real estate for years or are just getting started, consider joining our Facebook group at http://FlipChicksAtlanta.com and sharing your knowledge and experience with others.
The purpose of our group is to build a strong community of successful Flip Chicks through networking, education, support and encouragement.
You can participate by getting involved, asking lots of questions, sharing your knowledge and resources, sharing your latest flips, sharing lessons learned (good or bad) and encouraging others.
Men who wish to support and empower our Flip Chicks are welcome to join and participate in our group as well.