Archive for June, 2012
Posted on June 25, 2012 by
Atlanta REIA 2nd Annual Vendor Trade Show & 2 Year Anniversary Celebration
Monday, July 2, 2012@ 5:00 PM
Attention Atlanta REIA Members, friends, followers and guests,

The Atlanta Real Estate Investors Alliance is very excited to announce that on Monday, July 2nd at 5:00 PM, we will be having our 2nd Annual Atlanta REIA Vendor Trade Show to celebrate our 2 Year Anniversary. We will be meeting at the Atlanta Perimeter Hotel & Suites located at 111 Perimeter Center West in Dunwoody, GA.
This trade show and celebration is all about YOU, our members, business members, local speakers, trainers and subgroup leaders who have supported us throughout out very successful second year! There will be plenty of opportunities for you to promote yourself, your deals and your business to our other members and guests. In order to draw out a crowd, we are keeping admission free for members and guests can RSVP Online for $10 (or pay $20 at the door) and have a very exciting line up.
THIS MONTH'S GUEST SPEAKERS

Dustin Griffin will be updating our members and guests on many of the exciting new things that are going on at Atlanta REIA in the upcoming weeks and months such as upcoming workshops, webcasts, special events, member's benefits and more!

Joe Thompson will be hosting a 60 minute Haves & Wants Speed Marketing Session to help facilitate deals by giving our members the opportunity to quickly market things they HAVE and no longer want and to find things they WANT but don't yet have. Be sure to get to bring your flyers.
Don DeRosa is going to show you how to simplify the rehab process by using the iPad and show you exactly what apps he uses to get the best prices and to ensure you don't get taken advantage of by your contractor. Whether you are wholesaling or holding a property, identifying the rehab cost can be one of the most difficult tasks a new investor can face. Even a small miscalculation could mean the difference between making a profit or doing real estate as a hobby. Don will walk you through a complete inspection so you won't miss a thing. Don't miss this exciting display of today's latest technology.

Bob Massey is going to be talking about how to legally flip PRETTY houses with 25% profit margins by taking advantage of widespread banker fraud throughout the process. He will be covering how the United States financial system is set up and how they take advantage of homeowners. Their shenanigans have opened up an awesome but little known opportunity for investors to help out a huge number of underwater homeowners AND make some serious money. He will be explaining it all and taking your questions.
Robert Woodruff, President of the Charleston REIA, retired at 32 years of age with $6,000 dollars in monthly passive income. Robert now spends his time traveling the world with his family, speaking nationally, and filming videos on financial freedom and quality of life. Robert will be sharing his specialized knowledge on low-risk cash flowing investments and how to control property without the need for ownership. Learn how to retire early and control property without ownership with Robert's specialized knowledge.

Russ Hiner is going to talk about three different marketing methods you can use in order to get high quality leads consistently coming to you. You will then be able to cherry pick the properties to make deals. Join Russ on July 2 and pick up just another couple of tools so that you feel better about where you're going in today's real estate market. You'll receive practical tools that are going to allow you to get much better at marketing and understanding what marketing is all about.

Chris Littleton will be discussing the option of hiring a property manager vs. do-it-yourself property management. He will address common landlord issues, how to stay out of court and take questions from the audience. Chris is a licensed Realtor; his team currently manage 560+ homes in 18 metro Atlanta counties. If you're buying property to hold – you won't want to miss this valuable information.
MEETING AGENDA FOR JULY 2, 2012
3:00 pm: Active Investors Group at Total Wine & More
4:00 pm: Vendor & Event Setup
5:00 pm: Doors Open, Trade Show Begins, Networking
6:00 pm: Haves & Wants Speed Marketing Session
7:00 pm: Q & A Sessions with Local REI Experts
9:30 pm: Late Nite Networking at Tilted Kilt Perimeter
Just a Few of the Vendors in Attendance
Robert Woodruff Investing
Goldmine Properties, Inc.
Air Conditioning Experts, Inc.
Scott Bowen's Specialized Services
C. Brown Property Management
Advanta IRA Administration, LLC
Simply Amazing Staging
AquaGuard Foundation Solutions
Allgood Pest Solutions
More to be posted soon!
Individuals Can Join Atlanta REIA for Only $75 for 1st Year & Add a Partner for $25 More!
You can Join Atanta REIA as a Silver Member on July 2nd only for $75 (Save $25) for your 1st year. You can also add a spouse, partner, significant other or adult child for only $25 extra (Save another $25).
You can Join Atlanta REIA as a Gold Member on July 2nd only for $250 (Save $50) for your 1st year which is good for two people (spouse, partner, significant other or adult child).
Click here for more information on Atlanta REIA Individual & Couples Memberships.
*

NEW BUSINESS MEMBER SPECIAL!
Businesses Can Join Atlanta REIA for Only $125 for 1st Year & Add a Partner for $25 More!
If you own a business that caters to real estate investors and other real estate professionals and haven't joined Atlanta REIA yet, now is your chance to join as a Business Member and save big!
You can Join Atanta REIA as a Silver Business Member now through July 2nd for only $125 (Save $25) for your 1st year. You can also add a partner for only $25 extra (Save another $25).
You can Join Atlanta REIA as a Gold Business Member now through June 2nd for $300 (Save $50) for your 1st year which is good for two business partners.
Click here for more information on Atlanta REIA Business Memberships.
Would you like to be a vendor at our July 2nd Atlanta REIA Meeting & Trade Show?
Sign up for a Vendor Table Now!
Gold Members can reserve a vendor table for $50, Silver Members for $60 and Non-Members and guests for $85.
RSVP Now
and join us at our July 2nd Vendor Trade Show and 2 Year Anniversary Celebration!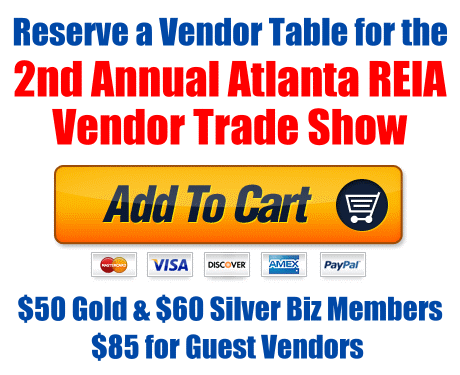 *This special offer is not eligible for Goodwill Ambassador referral fees.
Monday, July 2nd @ 3:00 PM in Atlanta, GA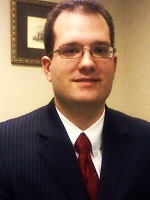 Atlanta REIA is pleased to announce that Attorney Matthew Lettich will join us at the new Active Investors Group on July 2nd at 3:00 PM at the "meeting-before-the-meeting" to share his insider secrets of investing in bankruptcy properties. We will discuss the different types of bankruptcy as well as the various opportunities and pitfalls. We will discuss how to locate prospects and create opportunities in this little known area of investing.
The Active Investors Group is a new educational and networking group, led by Gordon Catts, that meets once per quarter at 3:00 PM in the private meeting room at Total Wine & More located at 124 Perimeter Center W in Atlanta, GA before the Main Atlanta REIA Meeting. Gordon will be showcasing various, lesser known real estate investing niches so you locate profitable deals that have not been picked over by the hoard of investors entering or re-entering the market.

At 5:00 PM, Total Wine & More will be offering a complimentary wine tasting to all those who attend our meeting and wish to participate. There is NO CHARGE to attend this meeting or the wine tasting for Atlanta REIA Members and guests.