Fuller Center of Atlanta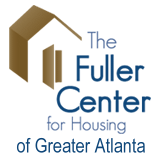 The Fuller Center for Housing of Greater Atlanta, faith-driven and Christ-centered, promotes collaborative and innovative partnerships with individuals, organizations, corporations, and religious groups of all faiths in an unrelenting quest to provide adequate shelter for all people in need in the Greater Atlanta area.
The Atlanta Real Estate Investors Alliance and our members are proud to be partners with the Fuller Center of Atlanta and assisting them in building, renovating and repairing homes for needy Atlanta families. Check out our Event Calendar for our Atlanta REIA Fuller Center Saturday Volunteer Workday on Project Lakewood and get involved! You'll be glad you did.
Fuller Center Volunteers Wanted
If you are interested in volunteering at the Fuller Center of Atlanta, please contact Mark Galey at (404) 867-3258 or Mark@MagnetConstruction.Com.
Follow the Fuller Center of Atlanta Online