Archive for February, 2015
Posted on February 28, 2015 by
Sat, Mar 14 at 9AM @ Doubletree Hotel, Roswell, GA
Pre-Foreclosure Wealth & Lifeonaire Workshop
How to Design an Insanely Profitable Pre-Foreclosure Flipping Business & Have an Amazing Life in the Process
A Full Day Workshop with Shaun McCloskey
Sat, March 14th, 9AM-5PM at DoubleTree Hotel
1075 Holcomb Bridge Rd, Roswell, GAEarly 2-for-1 Registration Special Ends
Tonight, March 12th at Midnight!
Join us on Saturday, March 14th at 9:00 AM at the Doubletree Hotel at 1075 Holcomb Bridge Rd in Roswell, GA to learn how to dominate your pre-foreclosure market from the master of pre-foreclosures, Shaun McCloskey!
Shaun is teaching students why this is THE YEAR for pre-foreclosure real estate investing. The market is hot, hot, hot! Banks have an overabundance of inventory and Shaun and his students are cashing in big time!
"In just the past two weeks alone, I've had two students call with record setting profits. At this workshop, I'll show you the 7 steps to how Dave just cashed a $175,000 NET paycheck (that means after all expenses, this is how much he got to keep for himself!) I'll also show you the exact steps that Dan used to close a deal that will earn him close to $300K in net profits in the next two weeks! All of what we're sharing is what works TODAY!"
Here's What You'll Learn Saturday Morning at the Workshop!
How to cash in on short sales without EVER having to negotiate! Heck, we'll even show you how you'll never need to even make one single phone call to a bank to negotiate huge discounts!
Never Pay for Marketing Again: How to generate all the pre-foreclosure leads you'll ever need -for the low, low cost of ZERO dollars!
Pre-Foreclosure Deal Finding Strategies: Learn how to find and pursue ONLY the best of the best short sale leads in your area. Pursue the best, forget the rest.
Unlimited FREE Leads; How to get more pre-foreclosure leads than you can handle, all begging you to take their house.
Deal Evaluation Demystified: Learn the 6 strategies I use to quickly find (and pick) the lowest hanging fruit that equates to the biggest possible paychecks.
APPROVED: Offer Structuring tactics designed to virtually guarantee the biggest discounts and most approved short sale offers. (I'm going to give you the exact criteria that banks use to determine whether or not they'll approve your offer!)
Affective Negotiation Tactics that Work: Learn specifically how to structure your negotiations so that the banks are begging you to rob them of thousands of dollars worth of equity.
Bank Secrets Revealed: Discover the #1 secret to uncovering the lowest possible dollar amount that a lender will accept as a short sale payoff. (This one secret alone is worth hundreds of thousands of dollars in cash in your pocket!)
Sell that House FAST!: Discover the brand new house selling strategy that virtually GUARANTEES you to sell any house in any market in 7 days or less!
Business Management Mastery: How to set your real estate business so that it runs on AUTOPILOT, allowing you to put cash in your pocket without having to work 70 hours per week like most other real estate investors.
Unlimited Deal Funding: How to access all the cash you'll ever need to fund your real estate deals.
And much more…
AND THAT'S ALL BEFORE LUNCH!!! There's More!
By the way, all of what we're sharing is what works TODAY! It's not some fluff that was written by someone who's never been in the business. This stuff works right now, right here in the Atlanta Metro Area.
I'm also going to be sharing how my student Jason Roberts made $3.7 MILLION dollars in his short sale business his very first year in with his short sale business, doing EXACTLY WHAT I'LL BE TEACHING YOU AT THIS EVENT! I'll show you his exact recipe of how he did it – his exact marketing plan to get people to hand him the keys to their house, and how you can too.
This Saturday workshop is designed to provide you with everything you need to get your short sale business up and running within 7 days, so come prepared to take lots of notes! Bring a sharpened pencil, and come prepared to get every question answered. Regardless of whatever you've heard about short sales in the past, we're going to show you how to make this year the most profitable year of your entire life!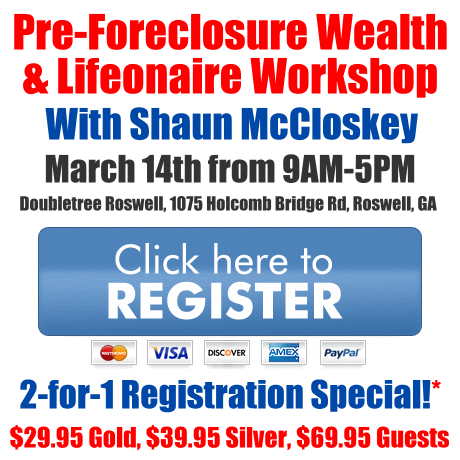 PLEASE NOTE: The 2 for 1 Early Registration Special is for Altanta REIA Members and is limited to spouses, adult children and corporate partners. Non-Members after early registration expires. Non-Members who join Atlanta REIA between February 27th – March 2nd, 2015 can attend the workshop for FREE. Also, Atlanta REIA Members who renew their membership for an additional year between February 27th – March 2nd, 2015 can attend the workshop for FREE as well. When joining Atlanta REIA or renewing your membership, please indicate that you want to attend the workshop at no charge. You can join Atlanta REIA at http://membership.atlantareia.com.
BONUS SESSION! – Saturday Afternoon Session Read More→