Archive for October, 2011
Posted on October 19, 2011 by
Have you heard all those real estate investing success stories about making tens of thousands of dollars on a single deal? About having enough passive income so you don't have to work anymore? Are you ready to write your own success story!? Are you ready to Break Through in your real estate investing career?
Then you must attend the Breakthrough Real Estate Investing Academy – November 3-6at the Hilton Garden Inn Atlanta Perimeter Center located at 501 Lake Hearn Drive in Atlanta, GA! It's a brand new, one-of-a-kind event that will cover all of the things you need to do to take advantage of this amazing real estate market. Maybe you're still trying to land your first deal, but just can't seem to Break Through whatever is keeping you from getting it done? Or perhaps you're an experienced investor, but want to leverage the latest techniques to step it up a notch while the getting is good (and the getting is really good, when you know what you're doing!)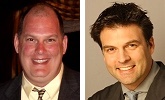 If this is you, then check out what you'll learn at the brand new Breakthrough Real Estate Investing Academy – put on by two experienced investors who know Atlanta and the Southeast, and who always put on education-packed events: Don DeRosa and Duncan Wierman.
PLEASE NOTE: This event currently sells for $2500 on Don and Duncan's websites, but Don and Duncan, whom are both members and active supporters of Atlanta REIA, have very generously given us a few dozen tickets to this training event to resell as a fundraiser and membership drive for or organization. Therefore Atlanta REIA Members can attend this event for ONLY $99 (Save $2401!) and Non-Members for ONLY $199 (Save $2301). If you are a Non-Member, you should Join Atlanta REIA as a Silver Member for Only $100/year first, then purchase this event for only $99 and get a 1 year membership for the same price as the special guest tuition of $199. Thank you Don and Duncan for this special offer!!!