Archive for March, 2014
Posted on March 31, 2014 by
Sat, April 19th, 9am-5pm – Sandy Springs, GA
Rock Shukoor's Real EstateMarketing Madness Workshopaka Marketing 101 WorkshopApril 19th, 9am-5pm –

*

Keller Williams200 Glenridge Point Pkwy, STE 100, Sandy Springs
Do you want to learn the fastest and easiest way
to make money in real estate?
It's a proven fact that real estate has created more millionaires than any other investment in history, so what's stopping you from being the next real estate multi-millionaire?
No Cash?
No Credit?
No Training?
No Experience?

No mentor?
No resources?
No leads?
No confidence?

Fear of the unknown?
Fear of risk involved?
Don't want tenants?
Don't know where to start?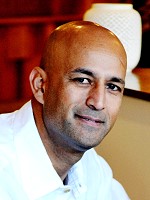 Do any of these obstacles apply to you? If so, you must attend my upcoming Marketing Madness Workshop on Saturday, April 19th from 9AM to 5PM at the Keller Williams Office* located at 200 Glenridge Point Pkwy NE, Suite 100 in Sandy Springs, GA. During this full day event, I am going to personally help you overcome each and every one of the obstacles that may be stopping you from bringing home some really big checks in a very short period of time with little or no cash, credit, experience or risk required on your part.
Whether you know it or not, as real estate investors, we are all in the "marketing" business. Yes, "real estate" is our product and "solutions" is the service we provide, but we are in the marketing business. You must learn how to be a great marketer to be able to find great deals no one else can and be able to attract cash buyers so you can close within days.
When you run your real estate investment business properly, you will get paid within days not weeks or months, just like most successful wholesalers do. Of course this is easier said than done, right? Well, it is that easy when you know what to do, how to do it, when to do it and when you have the right resources available to you.
During the Marketing Madness Workshop, I will share tons of useful and up to date information and teach you how to become a "Marketing Machine" and the "Go-to Person" for hot deals in your market.
I will teach you direct mail marketing secrets, voice broadcasting, mobile marketing, text message broadcasting, video marketing, social media marketing, how to build a buyers list, and many more killer marketing techniques that can be used in any market. I will also teach you many of my wholesaling techniques, share the resources you need and keep it simple, fun, fast and easy!
So what are you waiting for? Will you be the next real estate millionaire? It is up to you. Success starts with taking action, one step at a time. So don't let anything stand in your way. Clear your schedule, forget the past and come join me at the workshop so I can help you become a Marketing & Wholesaling Machine! See you at the event!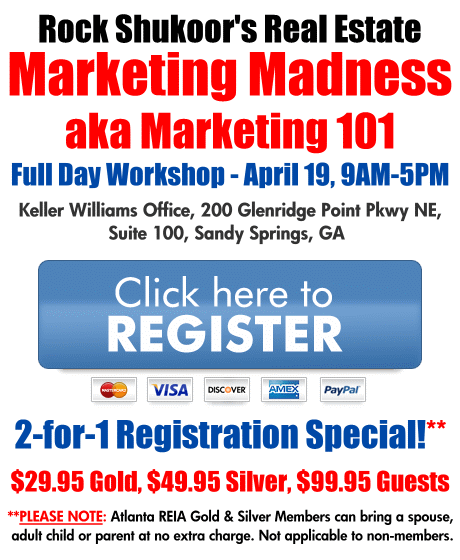 *Meeting facilities provided by Deborah Harris of Keller Williams Realty First Atlanta. Contact Deborah for all your commercial or residential real estate needs at 404-272-9827 or AtlantaRealty@KW.com. Thanks Deborah!