Doug Shaddix
Posted on April 27, 2011 by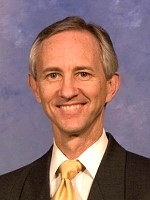 Doug Shaddix grew up in the Atlanta area and graduated from Georgia State University in 1978.  With a degree in Political Science, he worked for a congressman while attending law school until the election of President Ronald Reagan.  Putting his law degree on hold, he moved to Washington, D.C. for eight years where he worked in International Trade at the Department of Commerce.  After serving in the Reagan Administration, and other political and public policy positions, he returned to Atlanta and to law school where he graduated Cum Laude.
Having spent several years with the Atlanta-based law firm of King & Spalding, he left to practice law on his own in the area of asset protection and estate planning.  His firm, Wealth Preservation Solutions, LLC, specializes in setting up corporations and limited liability companies, as well as a variety of trusts such as Revocable Living Trusts, Land Trusts, Charitable Remainder Trusts, Personal Property Trusts, Special Needs Trusts, Asset Management Trusts, ILITs, and other estate planning needs for his clients.
He is an active member of the community, having served on the Cobb Board of Elections, has held positions with the State Bar, with his alma mater, his political party and with his church. Doug has been married for 26 years and is the proud father of 3 daughters.