Beginning Investors Group
Beginning Investors Group (BIG) Meeting Replays
Beginning Investors Group (BIG)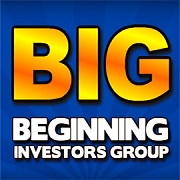 The Atlanta REIA Beginning Investors Group (BIG) is an educational and networking special interest group for new investors who are just getting started in real estate investing as well as "new again" real estate investors who've taken a few years off and are looking to get back in the game. BIG is hosted by Dustin Griffin, Executive Director of Atlanta REIA, who will be bringing in local and national real estate experts to teach new investors how to survive and thrive in our ever changing economy and real estate market. The entire purpose of this group is to help new investors get their first deal and help new again investors get their next deal.
The Beginning Investors Group meets on the 3rd Monday of each month from 6:30 PM to 9:00 PM at Hudson Grille located at 6317 Roswell Rd NE, Sandy Springs, GA (map) just outside the Perimeter. BIG is FREE for Atlanta REIA Members. Guests and Non-Members can pay $20.00 at the door or RSVP Online for $15.00. This is a "dinner" group and we kindly request that you buy dinner and/or drinks since the Hudson Grille allows us to meet there. There will be lots of learning and lots of networking. Bring your deals and your haves, wants and needs to the meeting for discussion.

Beginning Investors Group (BIG!)

Dustin Griffin is an entrepreneur, real estate investor, website developer, internet marketing enthusiast and a husband and proud father of two. Dustin is the Executive Director of the Atlanta Real Estate Investors Alliance (Atlanta REIA), the Tampa Real Estate Investors Alliance (Tampa REIA), the Charlotte Real Estate Investors Alliance (Charlotte REIA) and enjoys helping others achieve their personal and financial goals through real estate investing.