Archive for Products
Posted on April 21, 2011 by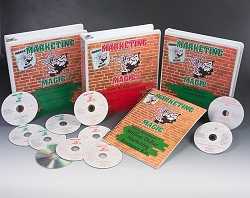 Marketing Magic 1 & 2: contains 12 Direct Mail Campaigns including Out of State Owners, Pre-foreclosures, Military Transfers,  Vacant Houses, Quit Claim Deeds, Finding Your Dream Home, Multi-family Owners, Attorney Letter, Zip Code Mailer, Getting the Deed letter, Expired Listings, Free & Clear Property Owners and more… plus 24 additional marketing techniques and samples of all of them, including the Calling on Ads campaign and the Tenant Referral System.
There is even an 8 CD audio set plus a forms CD with all the letters already done for you. This complete system also includes resources for all your mailing lists plus a company to do all the mailings for you. All you have to do is deal with the motivated sellers.
Marketing Magic Seller Conversations: includes transcribed manual plus audio CD of conversations with sellers both motivated and non-motivated for each direct mail campaign so you can learn to pre-screen sellers quickly or train someone to do it for you!
Kathy is even including her Very Atlanta REIA Discount to Gold & Silver Members as well as Guests… Take Action Now!
Kathy Kennebrook's
Marketing Magic System