Catherine McFarland
Posted on April 14, 2011 by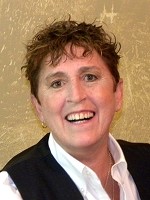 From Rags to Riches a real life miracle… Catherine McFarland was born in a small town in the mountains of East Tennessee. At that time she was born her family lived in a one room house with no indoor plumbing. From her humble beginnings, she broke the mold. She became an entrepreneur early on, selling greeting cards door to door, doing odd jobs for neighbors and undertook many other ventures to provide for herself.
Hard work was a way of life, that's all her family knew. Her Dad had a 6th grade education and couldn't seem to keep his head above water. Catherine became an over achiever. She found her self worth in winning awards, in competitions and in helping others. She won many, many awards on local, state and national levels. She is an accomplished equestrian and animal lover. She attended the University of Tennessee in Knoxville.
Along the way her careers took many turns, she became a paralegal, had her own construction company, worked in code enforcement and zoning for city governments, and became a certified home inspector. Having mastered the art of selling as a young child, she always strives for a win win situation. A deal is only successful when "everybody wins". Her varied background soon made sense when she and her partner started Happy Trails Homes. Their business skyrocketed almost over nite. Combining their talents and integrity, they helped literally hundreds of people achieve the American Dream. They have bought and sold millions of dollars in real estate. Eleven years later they are still investing in real estate full time. Catherine became educated by the best in the business. Today Catherine is truly a transaction engineer, able to tackle any real estate situation. Knowing how to quickly evaluate deals is key to being successful in the field of real estate investing, Catherine is truly a master.
"One of my mentors taught me, that the best way to get what you want, is to help someone else get what they want. To be successful we must give back," one of Catherine's favorite quotes. Catherine is sharing her best kept secrets about taking the fear out of buying "as is" properties.
The keys to success she says can be applied to any business:
Set your Goal
Get Educated
Get a Mentor
Take Action
Give Back
Stick with the winners, find someone who has what you want and learn from them. Walt Disney said, "Competition, I wouldn't know what to do without it. There is enough to go around for everybody.
It is such a great feeling to be able to help my family and others. There is an abundance of properties and wealth to be had. Knowing how to evaluate and make a smart decision is key. Catherine will take you by the hand and show you how. She has mentored and helped many people achieve their dreams. You, too, deserve to reach your goals and dreams.