Atlanta REIA Meeting Updates
Posted on November 9, 2010 by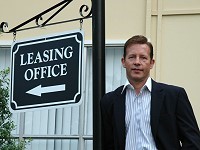 Many of our Atlanta REIA members and guests have been asking how to get started in commercial real estate because of their interest in purchasing office buildings, strip malls, apartments and the like. Because of these repeated requests, I have managed to convince  my good friend and commercial real estate expert David Lindahl to speak on the secrets of his success at our next Atlanta REIA Main Monthly Meeting on December 6th at the Doubletree Hotel in Roswell GA (map)!
Just so you know, David has rehabbed over 820 houses in just under 10 years and currently owns over 7,400 apartment units and has a wealth of information to share with you. David will be talking about…
How to own apartments and never have to deal with tenants
How to get paid three different ways by investing in multi family properties
How to hire the right management company to do all of the work for you
How to find properties that have the highest profit potential
How you can buy local real estate in the best areas of Atlanta and Georgia
Discover the low risk and high cash flow of multi-family investing
Learn about recession proof investing and attracting all the money you need to finance your deals
So mark your calendars and come join us at our December 6th Atlanta REIA Meeting to find out how to get started investing in commercial real estate. We are waiving the cover charge for the December meetings so you can attend for FREE and bring your friends, family and business associates.