Atlanta REIA Meeting Updates
Posted on February 13, 2020 by
Mon, Feb 17th @ 6:30 PM – Hudson Grille, Sandy Springs, GA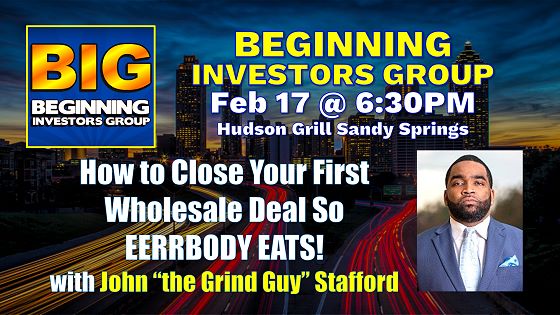 How to Close Your First Wholesale Deal So EERRBODY EATS!
with

John Stafford
Join us at the Beginning Investors Group (BIG) on Monday, February 17th at 6:30PM at the Hudson Grille in Sandy Springs located at 6317 Roswell Rd in Sandy Springs with our special guest speaker, John Stafford, who will be discussing "How to Close Your First Wholesale Deal So EERRBODY EATS!"
John says… "First You have to determine your WHY!! Believe in yourself!! And "Change" your mindset. Having a daily routine is key. Everyone in your circle needs to be Real Estate oriented. You should write your short-term and long-term goals daily and have a strategy.
Your daily routine should consist of enhancing your mental, physical and emotional health. With a consistent routine, everything aligns in the right direction. By applying all of these actions, this will change your Life!! There will be distractions, life will happen, but your WHY should keep you on the right path!"
During the Presentation, John will discuss…
Networking
Finding And Vet A Mentor
Driving For Dollars
Cold Calling
Negotiating
Getting the Contract
Closing the Deal
Answers to Your Questions & More!
If you want to find and close your first wholesale deal or your next wholesale deal, DON'T NOT MISS THIS EVENT where John will share his tips and tricks how to do just that! RSVP Now & Join us at the Beginning Investors Group (BIG)!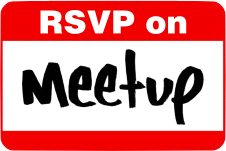 Here John shares a little information about himself… "I am a Real Estate Investor and the founder of Eerrbody Eats Real Estate Group.I have been in the business since the age of 19. I was introduced to the business by a mentor. I started by
knocking on doors, introducing myself to potential clients whose houses were going into foreclosure and were Highly motivated! Throughout my journey, I discovered that I had the passion for Wholesaling. My specialty is finding the best off market deals or what I call "Diamonds in the Rough". Having experienced the highs and lows of this business over the past 20 years, and doing well over 1,000 transactions; I am a witness that if you are passionate, hardworking, and have the right mindset this business is very rewarding and life changing. To me Real Estate investing helps re-build communities and brings property values up, helping not just investors but everyone in the community and I LOVE being a part of that proces."
The Beginning Investors Group (BIG) is an educational and networking group for new investors who are just getting started in real estate investing as well as "new again" real estate investors who've taken a few years off and are looking to get back in the game.

BIG is hosted by Dustin Griffin who will be bringing in local and national real estate experts to teach new investors how to survive and thrive in our ever changing economy and real estate market.The entire purpose of the group is to help new investors get their first deal and help new again investors get their next deal.
This is a "dinner" group and we kindly request that you buy dinner and/or drinks since the Hudson Grille allows us to meet there. There will be lots of learning and lots of networking. Bring your deals and your haves, wants and needs to the meeting for discussion.
As always, Atlanta REIA Member can attend the meeting at no charge and not-yet-members can RSVP Online for $15 or pay $20 at the door.