90 Day Internet Marketing Makeover Workshop Replays for 2010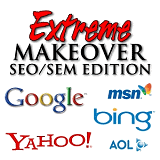 Starting in September 2010, Dustin Griffin conducted a 90 Day Extreme Internet Marketing Makeover Workshop using Search Engine Optimization (SEO) and Search Engine Marketing (SEM) strategies to teach attendees how to get their web sites, pages and profiles to dominate the first page of major search engines such as Google, Yahoo, Bing and other quicker than they ever thought possible!
This program was not called  "extreme" makeover because it is difficult, complicated or overly time consuming, but because of the extreme results you can achieve in a very short period of time based on your own individual efforts. With the proper training, a little hard work and a 90 day action plan to get it done, you can easily take your Internet presence from zero to hero in just 90 short days so you can generate more leads online than ever before!
PLEASE NOTE: If you are an Atlanta REIA Member who purchased and participated in this 9 week training series, you may now login to AtlantaREIA.com and watch replays of all 9 of the workshops by clicking the links below.
Internet Marketing Makeover Replays
Here's what Dustin covered in this training series…
Introduction to 800 Lb Guerrilla Internet Marketing
What is Search Engine Optimization & Search Engine Marketing
What you need to do to get started
How to complete your Internet Marketing Profile Worksheet
Homework Assignment for Week 1
Questions & Answers
Week 1 Homework Review
Setting up your Internet accounts and profiles that we will be using
Homework Assignment for Week 2
Questions & Answers
Week 3: On-Site Search Engine Optimization
Week 2 Homework Review
How to optimize your existing website for maximum SEO results
Homework Assignment for Week 3
Questions & Answers
Week 3 Homework Review
Introduction to Blogging
Setup and customizing a blog
Homework Assignment for Week 4
Questions & Answers
Week 4 Homework Review
Introduction to Social Networking
Setting up a Facebook Personal Account and/or Business Page
Setting up and customizing a Twitter Account
How to use your new Facebook and Twitter Accounts
Homework Assignment for Week 5
Questions & Answers
Week 5 Homework Review
Introduction to Using Online Videos
Setting Up a YouTube Account and Channel
Shooting and Uploading Videos
Linking and embedding videos
Homework Assignment for Week 6
Questions & Answers
Week 7: Online Articles & Advertisements
Week 6 Homework Review
Introduction to Articles and Ads
Writing articles and ads
Setting up article and ad accounts
Posting articles and ads
Homework Assignment for Week 7
Questions & Answers
Week 8: Bookmarking & RSS Feeds
Week 7 Homework Review
Introduction to Social Bookmarking
Setting up and customization of bookmarking accounts
Bookmarking widgets and toolbars
Bookmarking ads, articles, blogs, videos, etc.
Introduction to RSS Feeds
Questions & Answers
Homework Assignment for Week 8
Week 9: Putting It All Together
Week 8 Homework Review
Review of what we have covered so far and how it all works together
Tracking your results
Tweaking your results
What to do next
Questions & Answers