Paul Rossano
Posted on April 28, 2016 by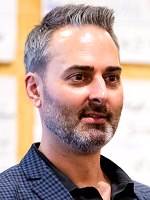 Paul Rossano is a devoted student and teacher of success and embraces a philosophy of constant and never-ending improvement in all areas of life.
Paul began his real estate and entrepreneurial career at the age of 21, and over the past 19 years he's been involved in hundreds of residential and commercial real estate transactions and started several tech companies.
While he's certainly had his fair share of success, Paul's career was a roller coaster of ups and downs until he met George Antone in 2012.
After experiencing George's trainings, Paul quickly realized this newfound knowledge was the missing link between the financial freedom he wanted, and the financial slavery he had been experiencing for so many years.
From that point forward Paul made it his mission to share George's training with as many people as possible so they can experience the peace of mind and confidence that comes with financial freedom and abundance.
The unique combination of George Antone's brilliant financial training and Paul's speaking skills and real-world experience has allowed him to become a top trainer for George's company Fynanc where he now helps investors and working professional everywhere create the financial success they desire and deserve.