John Adams
Posted on July 7, 2011 by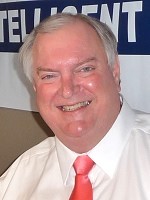 Described as "Atlanta's most trusted voice in real estate," John Adams is a leading expert and consultant on issues of home ownership in the southeast United States.
Since 1973, he has bought, sold, brokered, leased, or managed residential real estate valued at well over fifty million dollars.
His investment seminars at Emory University in Atlanta have attracted overflow crowds every quarter, and his call-in radio program on News-Talk Radio 920am WGKA is listened to by thousands of Atlantans every week. The program received the 1990 Excellence in Media Award from the Atlanta Board of Realtors.
His weekly real estate column in The Sunday Atlanta Journal & Constitution is the product of years of helping home buyers and sellers, and listening to their concerns.
Believing that wealth accumulation must take place on Wall Street as well as Main Street, Adams has used his forums to present a long term approach to equity stock ownership in America's strongest companies. He personally owns stock in each of the thirty firms comprising the Dow Jones Industrial Average.
Adams is a Founder and Director of the Decatur First Bank, a full service FDIC bank chartered by the State of Georgia.
John Adams is well known to audiences as a dynamic public speaker who motivates and entertains as he educates. There are few speakers who bring more personal energy or sound advice to the platform.