The Profit Newsletter – October 2013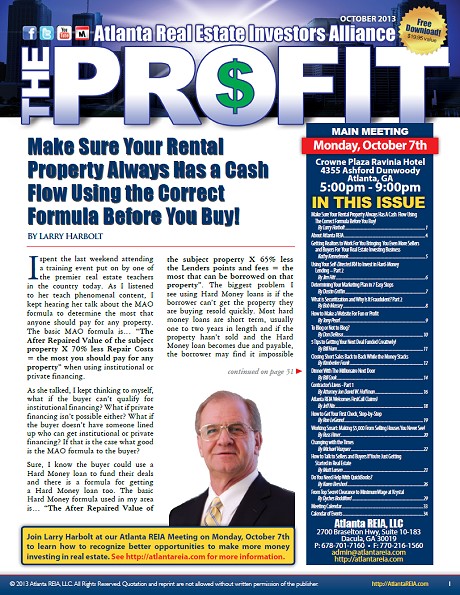 Sorry, this content is for members only.
If you are already an Atlanta REIA Member, please login below. Otherwise, click here to Join Atlanta REIA to access this content and more!
Make Sure Your Rental Property Always Has a Cash Flow Using the Correct Formula Before You Buy!
By Larry Harbolt


I spent the last weekend attending a training event put on by one of the premier real estate teachers in the country today. As I listened to her teach phenomenal content, I kept hearing her talk about the MAO formula to determine the most that anyone should pay for any property. The basic MAO formula is… "The After Repaired Value of the subject property X 70% less Repair Costs = the most you should pay for any property" when using institutional or private financing. Read More>>
Determining Your Marketing Plan in 7 Easy Steps
By Dustin Griffin


One of the things I have learned over the years about my ongoing marketing efforts is that my results only seem to be limited by how much time, effort and creativity I put into the marketing process and not how much money I spend. The more time and energy I put into the marketing of my real estate investment business, the better my results tend to be. When I decide to slack up, get lazy and not stick to my marketing plan, my results quickly diminish as a result. Read More>>
How to Make a Website For Fun or Profit
By Tony Pearl


If you want to sell/educate/entertain/enlighten/etc. just about anything to anyone in the world these days, you can and should have a website. No matter what you do, you will be able to reach and communicate with anyone you desire with this incredible tool. But how do you make one? What do you put on it? What do you say? And how do you add those cool videos and funny pictures of cats on there that everyone loves? Yes, these are the questions I often hear people ask. And today, I'll do my best to answer them for you! Read More>>
Using Your Self-Directed IRA to Invest in Hard-Money Lending – Part 2
By Jim Hitt


Hard money lending can be a great place for self-directed IRA or other retirement assets. There are, however, a few things to be aware of before you commit: Hard money loans can be illiquid. If you are nearing or over age 70, pay attention to your required minimum distributions. You must make these RMDs, even if the borrower pays the loan late. You may want to earmark RMD money to come from another source besides the hard money lending part of your portfolio. Read More>>
Getting Realtors to Work For You Bringing You Even More Sellers and Buyers For Your Real Estate Investing Business
By Kathy Kennebrook


Whether you are a serious investor or you're just getting started in the real estate investing business, you need to have at least one Realtor on your "dream team". There are many ways a Realtor can help you in your business, both on the buying and the selling side and they can play an integral role in building your business. Read More>>
What Is Securitization and Why Is It Fraudulent? Part 2
By Bob Massey


In last month's issue, I began to explain exactly what securitization is and why it is fraudulent. For several years the mortgage banks in this country were flat-out making up transactions and trusts to cover for the fact that they were pocketing their investors' money. But that wasn't enough for them. They bundled up the loans, intentionally loaded them with toxic mortgages to increase their rate of return, and sold them to themselves for a "profit." Read More>>
How to Talk to Sellers and Buyers If You're Just Getting Started in Real Estate
By Matt Larsen


OK! So you have decided you want to get into real estate investing and you have gone to some real estate seminars and classes and read some books. Great! You have learned that the next step is to put out some marketing to get leads coming in, like people that want to sell their house, and hopefully at a discount. So you have started doing one or more of the following… Read More>>
To Blog or Not to Blog?
By Don DeRosa

Do you have a blog? Have you ever thought about starting one? For a while there, you could be shunned if you didn't have a blog. Every Tom, Dick, and Alice had a blog. Heck, even my second cousin Flora, the cat lady, had a blog. All God's children had a blog! Thankfully, the hype has subsided. But the potential benefits of blogs – and pitfalls – are still there. Read More>>
5 Tips to Getting Your Next Deal Funded Creatively!
By Bill Ham


Funding in the real estate business can be one of the biggest barriers to entry and one of the biggest headaches! Here are some tips to help get your next deal funded. Remember that the only thing that sellers really care about is solving their problems. Make your offers a solution to their problems. Do your homework on the seller and the property. Find out why they are selling and if the property is distressed in any way. Make an offer that solves the seller's problems. Read More>>
Closing Short Sales Back to Back While the Money Stacks!
By Kimberlee Frank


I was just up speaking for Atlanta REIA when a member asked me "isn't closing short sales back to back illegal?" My answer was NO! He asked me, when did that change? It has never changed. He just didn't ask the right questions to the right Attorney or Title Company. Closing a short sale back to back can only be done with full disclosure which I always do on my paperwork to the short sale lender and to the "C" Buyer. Read More>>
Dinner With The Millionaire Next Door
By Bill Cook


Have you ever made a TOTAL fool of yourself – when you were least expecting to? Read on, and learn how I stepped square in the middle of it! Last night, one of my lifelong friends – Mary Ann Doering – invited Kim and me over to a small dinner party she was having for her neighbors. Mary Ann is a wordsmith and the woman who proofs my columns. Read More>>
Contractor's Liens – Part 1
By Jon David Huffman, Esq.


In this article, I begin a two-part discussion about contractor's liens. Under Georgia law, these liens are called mechanic's and materialmen's liens. I call them contractor's liens for simplicity because these liens apply to a broad array of contractors including laborers, professionals and traditional subcontractors. Read More>>
How to Get Your First Check, Step-by-Step
By Ron LeGrand


Several members have asked me to lay out the steps required to get your first check with a detailed description of each. That's exactly what you'll get, but it'll take several editions to get it done. You may want to copy these lessons and build your own manual as we go. Read More>>
Atlanta REIA Welcomes FirstCall Claims!
By Jeff Nix


New to the Atlanta REIA vendor family of services, FirstCall Claims is one of the largest and most experienced public adjusting firms in the Southeast, representing your best interests in the insurance claims process. FirstCall Claims exists to ensure that every last cent you are entitled to ends up in your pocket. Most people don't realize that there are three types of insurance adjusters; only one of which has your best interests at heart. Read More>>
Working Smart: Making $5,000 From Selling Houses You Never See!
By Russ Hiner


Have you ever heard the saying, "Work smart, not hard"? It's one of my personal favorites, and I'm here as a coach to show you how you can do it. I'm guessing that when you think about buying a property, you're assuming a lot of leg work: traveling to the property, inspecting it, doing the due diligence, and checking your numbers. Read More>>
Changing with the Times
By Michael Vazquez


At the beginning of the year most people only considered a deal if it was at 65% loan to value (LTV) including repairs. As the year continued 70% LTV was acceptable and then 75% LTV. Today, there are investors buying properties as high as 80% LTV. The real estate market has changed and will continue to do so. In some neighborhoods new sales are driving ARV up daily. Do not get left behind using old numbers. If you have not changed, now is the time. Read More>>
Do You Need Help With QuickBooks?
By Karen Bershad


Q: I am having difficulty reconciling my bank account. I have reviewed each entry and have found that several of my deposits do not match the amount the bank has for them. How do I see all my detail on each deposit without clicking on each one to open it? Read More>>
From Top Secret Clearance to Minimum Wage at Krystal
By Dyches Boddiford


Major Zane Purdy's life crumbled overnight… Maj. Zane Purdy was making over $100,000 a year employed by defense contracting company, General Dynamics, when his identity was stolen and sold to an identity theft and tax fraud ring. Now, Purdy makes $7.25 an hour at a Krystal to support his wife and two children. Read More>>