Mark & Anne Lackey
Posted on February 17, 2015 by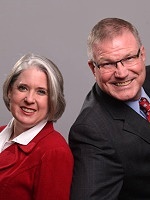 Mark and Anne Lackey are well known around Atlanta and across the nation as Real Estate Investors, Authors, Speakers and Educators as well as Realtors. Whether listing a luxury home, showing out of town buyers where to live or buying for himself, Mark and Anne's work, play and life are all about Real Estate. Late 1999 while working a J.O.B. (Just Over Broke) in Corporate America, Mark and Anne made the decision to start a real estate investing career and they have never looked back. Their first month in the business, they purchased 4 rental homes and still own all 4 today as high cash flowing rentals.
Today, Mark and Anne own and manage close to forty residential properties in their own account, and manage 160 rentals for other investors. Each year they find, fix-up and flip for a good profit four to six properties. Together they own and operate Atlanta Housing Source and Rental Home Atlanta. They do everything together. They coach and train hundreds of investors on joining the ranks of successful real estate investors and can found on the stage at local investing events, on the radio as a guest with Jeff Davis GM at 1160 WCFO (where he and Anne had a successful 2 year radio show dedicated to real estate investing) or promoting his latest Amazon Number 1 e-book. He and Anne have written three books and developed multiple training modules in the area of Real Estate Investing.
Specialties include: Real Estate Investing, Landlord/Property Management, Buying Real Estate in your IRA, Rentals, Flips, Using Virtual Assistants in Investing, Marketing, Asset Protection and Renovation.
Books:"Rent and Grow Rich", "Robin Hood is Not Dead" and "Multiply Yourself".