Kito J. Johnson
Posted on May 13, 2019 by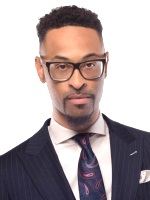 Kito J. Johnson is an accomplished real estate broker who specializes in teaching others how to create generational wealth through principles of real estate investing and entrepreneurship. A licensed broker in Georgia, Florida, Alabama, and Minnesota, his stellar career spans over 20 years and boasts involvement in over 1,000 real estate transactions. As CEO of Atlanta-based brokerage, Buy n Sell, Inc., Kito has been dubbed "the guy to know" in circles ranging from community leaders to elite investors.
He has served as an acquisitions agent and broker for the Blackstone Group's Invitation Homes, one of the largest single family hedge funds in the country, and as part of the 6th largest Keller Williams team in the world. A brilliant and trustworthy businessman with a heart to teaching, he regularly hosts events, trainings, and informative talks designed to educate and train aspiring investors and the public alike, on how to understand the market and invest wisely.
The essence of Kito's work is driven by an unrelenting desire to leave a legacy of financial wealth and freedom to his two children. When he's not working tirelessly on expanding his investing empire, he enjoys spending time with his family and exploring culture through international travel.