How to Help Underwater Georgia Homeowners and Make a Nice Profit at the Same Time
Posted on April 18, 2013 by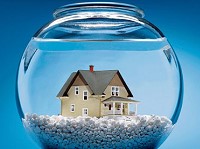 In a recent article in the Atlanta Journal-Constitution on Sunday, April 13th by Arielle Kass entitled "More Than 40% of Georgia Homes Underwater", she quotes…
"In an arc that stretches from Cartersville to McDonough to Winder, dozens of metro Atlanta neighborhoods are drowning. There's not another metro area in the United States with as many concentrated pockets of mortgage holders who are underwater on their loans. No place else comes close."
She goes on to say "The biggest losers, of course, are individual homeowners"… "When a home is underwater, it makes the homeowner feel poorer. It means that people are less mobile, less likely to move for new jobs or better schools. When they are unable to move, underwater homeowners stall the rest of the market. That limits the options for people who want to buy their first house, or those who are shopping for a bigger house." Read the full article here >>
Despite this gloomy news and this serious problem that many Georgia homeowners now face, there is a very practical solution to save these drowning homeowners…
On Saturday, April 27th at 8 AM at the Crowne Plaza Atlanta-Airport located 1325 Virginia Ave in Atlanta, GA, Ron LeGrand will be having a full day workshop with Atlanta REIA and Jay Conner where he will reveal a brand new strategy to help rescue drowning homeowners from these underwater homes.
It's Hot! It's New! It's Very Profitable & Can Make You a Lot of Money Very Quickly By Helping These Underwater Homeowners!
Ron will teach you how to use this new strategy to make $5,000 per house on overleveraged houses and how to easily do 4 per month.
Ron has a simple, new program called ACTS that's almost instantly doubling the revenue of his students across the country.
 It's an amazing, instant exit for Georgia home sellers who are over financed and upside down, and it's a huge public service for all those buyers who can't qualify for a loan in today's trouble economy.
You will never have to take title and own the home.
You have no cost.
About 55% of all houses For Sale By Owners fall into this new program.
40% of all Georgia homes are underwater and may qualify for this new program.
You can do three or four a month and make a minimum of $5,000 on each, and that's no  exaggeration… if anything, it's an understatement. (Ron's doing 2 a week in Jacksonville, FL)
 When you see ACTS, you won't sleep for three days when you see how quickly you can get a check with no loans, no banks, no repairs, no credit, no delays and very little work.
 Join us Ron in Atlanta on April 27th and learn how you can help yourself by helping others out of these upside down homes. We are expecting a full house, to register now so you can be guaranteed a spot!