Kathy Kennebrook's Marketing Magic System
Posted on April 21, 2011 by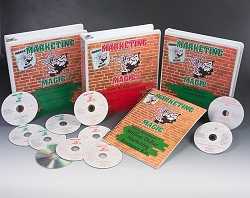 Marketing Magic 1 & 2: contains 12 Direct Mail Campaigns including Out of State Owners, Pre-foreclosures, Military Transfers,  Vacant Houses, Quit Claim Deeds, Finding Your Dream Home, Multi-family Owners, Attorney Letter, Zip Code Mailer, Getting the Deed letter, Expired Listings, Free & Clear Property Owners and more… plus 24 additional marketing techniques and samples of all of them, including the Calling on Ads campaign and the Tenant Referral System.
There is even an 8 CD audio set plus a forms CD with all the letters already done for you. This complete system also includes resources for all your mailing lists plus a company to do all the mailings for you. All you have to do is deal with the motivated sellers.
Marketing Magic Seller Conversations: includes transcribed manual plus audio CD of conversations with sellers both motivated and non-motivated for each direct mail campaign so you can learn to pre-screen sellers quickly or train someone to do it for you!
Kathy is even including her Very Atlanta REIA Discount to Gold & Silver Members as well as Guests… Take Action Now!
Kathy Kennebrook's
Marketing Magic System
This Means Your Investment Is Only…
$897.00 for Atlanta REIA Gold Members (Save $600)
$997.00 for Atlanta REIA Silver Members (Save $500)
$1197.00 for Atlanta REIA Guests (Save $300)
Please Include These Special Summer Bonuses Totaling Over
$7,200!
Mortgage Audit Certificate ($500.00 Value)
Bonus 6 Audio CD set ( $695.00 Value)
Your Own 24 Hr. Recorded Message ( $149.00 Value)
Kathy Kennebrook's Personal Marketing Resource Kit: provides you with discounted pricing on all the resources you need for your Real Estate Investing Business ($497.00 Value)
12 Month Consulting Certificate – Get one on one help directly from Kathy on your marketing or your deals. ($3,000.00 Value)
Exit Strategies for the Real Estate Investor CD set -Kathy provides you will all the information you need on the exit strategies that work in today's market. ($299.00 Value)
Pre-Qualifying Your Dream Team Realtor – Learn why you need to have a skilled Realtor as part of your dream team. You will find out how to train your Realtor to bring you the deals that will make big profits and how to get your Realtor to sell properties for you quickly. You may even duplicate this CD so you can give a copy to your prospective Realtors. It will train them for you. ($199.00 Value)
Guerrilla Tactics To Boost Your Credit Score– Insider Tips to Survive a Credit Driven Economy ( $149.00 Value)
Consultation With George Familigo Jr. – Personal and Business Taxation and Financial Planning Specialist ( $250.00 Value)
Live Auction Boot Camp 4 DVD set-Learn the good the bad and the ugly so you don't make the same mistakes, how to run a successful Round Robin Auction, Secrets from an Auctioneer who has done over 5,000 auctions, live Panel Discussions and much more… ( $1,497.00 Value)
Walking With the Wise Entrepreneur Book ( $16.95 Value)
An Unprecedented offer of over $7,700.00 in Discounts and Bonuses Absolutely FREE for the First 10 people who are willing to take action now and propel their business to another level!!
PLUS Kathy' Own Special Incentive To Get You Started Right Away!
Rebate Certificate: If you do a deal within the next 180 days using one of Kathy Kennebrook's 12 direct mail campaigns and you send your testimonial letter, proof you did the deal and a copy of your profit check, she will refund the entire amount you paid and you keep the system and all of the bonuses.
Kathy Kennebrook's
Marketing Magic System