Learn the Benefits of Investing in Fire Damage Properties
Posted on March 25, 2021 by
Thu, March 25th @ 7PM – LIVE IN-PERSON & ONLINE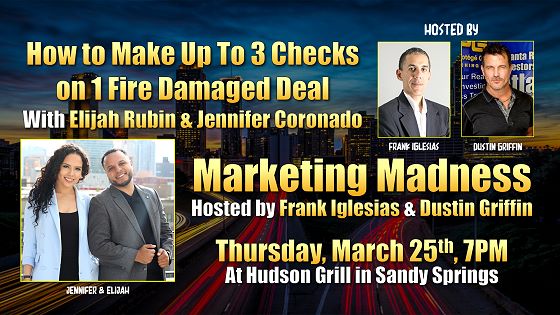 Fire Damaged Deals
Learn 3 Ways to Profit on 1 Fire Damaged Property

with

Elijah Rubin

&

Jennifer Coronado
Atlanta REIA, Tampa REIA, Savannah REIA & Chattanooga REIA Members can attend at NO CHARGE. Not-Yet-Members can Attend In-Person or Attend Online for Only $20!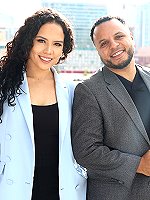 Our Marketing Madness Event is BACK LIVE & IN-PERSON on Thursday, March 25th at 7PM ET at the Hudson Grille in Sandy Springs located at 6317 Roswell Rd in Sandy Springs. We will also be doing our best to broadcast the meeting live ONLINE via Zoom Webinar.
This month, our special guests will be Elijah Rubin & Jennifer Coronado who will be discussing "How to Make up to Three Checks on One Fire Damaged Deal".
Elijah Rubin & Jennifer Coronado live in Phoenix, AZ with their daughter Sophia. They are a committed couple who have closed over 750 Properties combined and in the last 16 years with over $250 million worth of transactions completed. They are Real Estate & Sales Experts who specialize in the exclusive niche of Fire Damage Investing.
At the Event, Elijah & Jennifer will discuss…
Why you should pursue fire damaged leads
How to find fire damaged leads anywhere
How to negotiate these fire damaged leads and get up to three checks per deal
Answers to your questions and much lot more!
You do not want to miss this session! Elijah and Jennifer will take us deeper into this curious and oftentimes misunderstood niche of real estate. Sadly fires happen regularly which means you have opportunities to help Sellers out to make the most of a bad situation for mutual benefit. Come learn how you can be the one to make the most of it! See you there! RSVP Now and join us in-person or online!


Marketing Madness is hosted by Dustin Griffin & Frank Iglesias who will be bringing in local and national real estate experts and marketers each month to teach investors how to consistently market for deals in order to survive and thrive in our ever changing economy and real estate market. The entire purpose of the group is to teach investors how to be Marketers, aka "Lead Generating Machines", so they can have an unlimited source of leads and potential income.