Wholesaling 101 Workshop with Russ Hiner on August 27, 2016
Posted on August 16, 2016 by
Sat, August 27th at 9AM – Buford, GA or Online via GoToWebinar
Atlanta REIA Presents:
Wholesaling 101 Workshop
A Full Day Workshop with Russ Hiner
Saturday, August 27th from 9AM – 5PM
There Are Two Ways to Attend…
In Person or Online via GoToWebinar!
When I got started in the Real Estate Business over 30 years ago, I did not have a formal Real Estate education. I did everything by the seat of my pants, and I learned some tough lessons.
Here is what I found: the seat-of-your-pants business model will result in painful growth. It will cost a LOT of YOUR money. Believe me, I know. So I want you to learn from my mistakes so YOU can be successful.
If you could learn one thing from me, it would be to get a formal education from a solid coach or mentor who has been where you are and knows how to help you get your profitable real estate business off the ground.
I'm an expert, and a coach who can show you the Infinite Wholesale Technique. I can show you how to be confident, how to turn a profit, how to make good decisions, and I can show YOU how to make $5,000+ in the next 30 days.
This "edutainment" training will show you how to overcome your fears by leading you away from the mistakes I've made. Once you sign up and attend tihs event, you will learn the ins and outs of success in the wholesaling business.
You will learn to:
Create a buyers list that works
Create a successful seller's list
Create inventory
Write a contract that gives you the advantage
Talk to sellers and buyers
Make deal evaluations
Structure creative deals
Spot a "Great Deal" or one to run from!
And much, much more!
You'll also get my Wholesaling 101 Manual and paperwork.
Isn't it time YOU took YOUR place in the sun? Here is a low priced opportunity for you to get a seat in this Wholesaling 101 Event taught by me, investor, coach and real estate leader, Russ Hiner.
Wholesaling 101 takes place on Saturday, August 27th from 9AM to 5PM at 1960 Skylar Hill Dr, Buford, GA or Online via GoToWebinar. Come join up in person or online! I would love to help you take your Wholesaling Business to the next level!
To Attend In Person in Buford, GA, Register Here…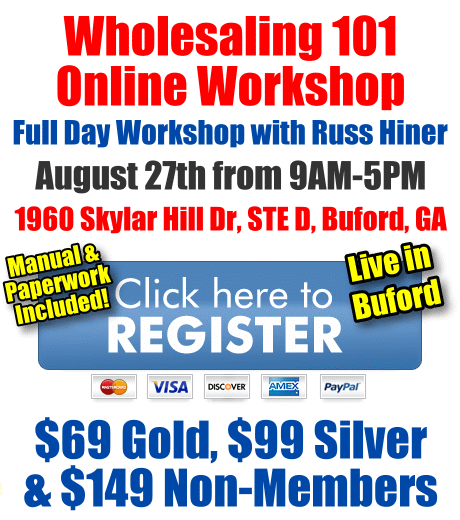 To Attend Online Via GoToWebinar.com, Register Here and follow these instructions carefully…
Register & Pay for the Event: Register for the Online Only Workshop below.
Register for the Webinar: Once you have successfully paid and registered for the event, you will be taken to a screen with instructions on how to register for the webinar. You will also be emailed these same instructions. So follow the instructions to register for the webinar.
Webinar Confirmation & Login Information: Usually within 24 hours of receiving your payments, we will confirm your webinar participation and send you confirmation information on how to login to the webinar on the date of the event. Once you get your Webinar Confirmation Information, you can login on Saturday, August 27th about 5-10 minutes prior to the 9:00AM start time using your PC, Mac, Tablet or Smart Phone. You can download the GoToWebinar App here on iTunes App Store or the Google Play Store.