The Wealth Blue Print to a Millionaire Mind Workshop on August 18, 2012
Posted on July 20, 2012 by
Join Robyn & Larry in Atlanta on August 18th for a Full Day Wealth Building Workshop
Crowne Plaza Ravinia, 4355 Ashford Dunwoody, Atlanta, GA

Robyn Thompson, the "Rehab Queen", is the nation's leading expert on buying properties at deep discounts, renovating them at lightning speed and selling them quickly for huge chunks of cash. Robyn has rehabbed over 320 properties in her 15 years of investing and actually rehabbed 51 houses in single year. She takes her business very serious and runs it like a fine tuned money machine and not a hobby.

Larry Harbolt, the "King of Creative Financing", has been buying and selling real estate for over 30 years, has completed over 400 seller finance deals and is the nation's leading creative seller financing expert as well as a popular national real estate speaker and trainer whose time-tested strategies and nuts and bolts teaching style has helped thousands of aspiring real estate entrepreneurs realize their financial dreams with little or no money and without the need for credit.
Robyn and Larry are teaming up and coming to back to Atlanta for full day workshop called The Wealth Blue Print to a Millionaire Mind on Saturday, August 18th, 2012 at 8:30 AM at the Crowne Plaza Ravinia Hotel located at 4355 Ashford Dunwoody Road in Atlanta, GA. As an Early Registration Special, this Workshop is being offered to Atlanta REIA Gold Members for $24.95, Silver Members for $34.95 and Guests for $69.95. These prices are good for two people limited to spouses, children, partners & significant others. Early Registration Expired on August 15th, 2012 at Midnight.
Special Offer for Guests: If you would like to join Atlanta REIA this, we have a very special offer for you. If you join Atlanta REIA as a Silver or Gold Member starting for as low as $100/year, you and a guest can attend the Wealth Blueprint Workshop for FREE.  Click here to learn more about membership and/or to Join Atlanta REIA Now! When you purchase your membership online, be sure to indicate you want to attend the workshop at no additional charge so that we can get you registered.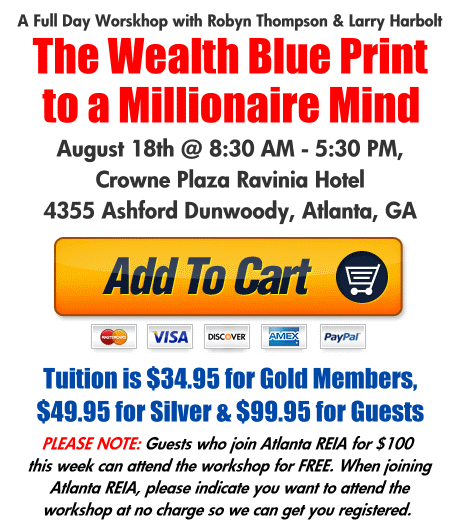 PLEASE NOTE: Once this Early Registration Special Expires, tuition will increase to $34.95 for Gold Members, $49.95 for Silver Members & $99.95 for Guests per person. So, Register Now to save big time and have the ability to bring a second person at no additional charge. Don't miss this very special offer to learn from two of the best minds in real estate investing! Early Registration Expired on August 15th, 2012 at Midnight.
SPECIAL BONUSES for 1st 100 People to Register!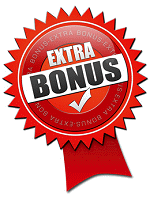 Robyn has three very special bonuses for the first 100 people who RSVP for The Wealth Blueprint to a Millionaire Mind Workshop. She is giving away 3 new audio courses entitled…
"How to Buy Winning Properties and Avoid the Losers" ($99 value)
"How to Wholesale REOs" ($99 value)
and "Wholesaling for High Dollar Profits" ($99 value)
Larry Harbolt is also throwing in a CD called "The Fast Path to Cash" (another $99 value) which will teach you how to find seller financed properties regardless of your cash or credit.
Register for the workshop now to reserve your free copy of these bonuses valued at $396 since supplies are limited and this event will sell out!
This will be a jam packed full day event. Read more about what you will learn…
Robyn will be teaching her cutting edge business practices to help you increase your profits in today's market. She will teach you:
Her "Wealth Blue Print to a Millionaire Mind" which is a step by step process to wipe out your old bad money programs and mindset
She will cover her cutting edge strategies on making quick cash in the short term (your flippers) as well as the most profitable properties to hold to build long term wealth (your keepers).
She will be walking you through real life examples of houses she has bought and teach you her 7 steps to property evaluation so you can buy winners and eliminate the losers.
The actions a serious business focuses on daily to increase revenue in real estate
Her detailed step-by-step road map to becoming a successful business owner
How to develop a marketing plan to bring in high profit deals
Effective delegation strategies to our super charge your time so the few hours you have for real estate investing can earn substantial profits
The best time management skills to boost your income
A detailed list of all of her employees responsibilities and how to hire the best employees to take the work load off of you
How to utilize employees to cut renovation and holding costs by as much as 15%
How to increase passion and commitment in your business
How to deal with failures and set backs in a positive way
Larry will be teaching you what you really need to know to buy real estate profitably with only $10 down, even if you have bad credit or are bankrupt! He will also be teaching you how to protect your assets using land trusts. Larry will teach you:
How to buy real estate profitably in any market or economic cycle, even when you have no money, no credit or poor credit
How to buy and sell all the property you want and never use a bank or apply for a loan again
Why you can buy millions of dollars in real estate and never have a debt show on your credit report or be personally liable for a penny
Learn how to create the terms to make cash today and overcome seller objections like a pro
How a few carefully chosen words you can easily master in minutes can potentially earn you big paydays when you're ready to cash out your seller
How to structure offers with no payments, no interest and get the seller to gladly accept so you can drive your cash flow through the roof
How to change the terms of the loan months or years after the closing and make the seller ecstatic to do so
Build an empire from monthly cash flow and cure negative cash flow, a secret few people know
How to protect your real estate assets just like the millionaires do
How to use the Land Trust so no trip-and-fall person or their contingency fee attorney will be able to figure out who the owner of any of your properties is
How to quickly recognize the money maker deals from the losers in a flash
How to get sellers to want to sell you their property
How to structure killer deals quickly eliminating your competition
Come and join the Robyn and Larry in Atlanta once more on Saturday, August 18th, 2012 for The Wealth Blue Print to a Millionaire Mind Workshop where they will share all their secrets on how to run your investing business like a business and not just a hobby. You will learn new systems, strategies and techniques on how grow your business and your bank account by working smarter and not harder and longer. Robyn and Larry are going to pull back the curtain and show you their millionaire mindset strategies to catapult your business in a hurry. You're not going to want to miss this power packed day with two of the greatest millionaire minds in real estate investing.
We look forward to seeing you at this great event on August 18th in Atlanta!
The Wealth Blue Print to a Millionaire Mind Workshop Flyer with Robyn Thompson and Larry Harbolt.