The Ugly House Boot Camp – Part 1: Wholesaling (November 2014)
Posted on November 9, 2014 by
The Ugly House Boot Camp
Part 1: Wholesaling
November 20th – 22nd, 2014
A 3 Day Boot Camp with Russ Hiner & Rock Shukoor
Learn to Buy Ugly Houses with…
The Wholesale Technique for doing Real Estate Deals is Simple, Fun and Highly Profitable! You can learn to Apply this Strategy in ANY Real Estate Market and can complete many of these deals, from start to finish in a few days or weeks. This means you can often Get Paid in 30 Days or Less and start to Create the Financial Freedom You Deserve by getting started in buying and selling real estate today.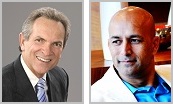 Join us at the event and learn from two experts, Russ Hiner and Rock Shukoor, who have done hundreds of these deals over the past few years. Russ and Rock will teach you everything you need to know about Wholesaling Houses for Huge Profits. There will be two amd 1/2 days of classroom time as well as a property tour where you will be learning how to evaluate a property, make and offer and buy it.
Register for this Boot Camp if you want to learn how to:
Build a buyers list
Create inventory
Understand and use contracts
Make offers
Knowing a deal vs no deal
Deal analysis
Seller's scripts

Buyer's scripts
Drive by appraisals
Desktop appraisals
How to market
Market trends
Develop a Business Plan
Negotiate deals
What you'll Get at Part 1 of The Ugly House Boot Camp
3 Days of intensive Wholesale Training. 2 1/2 days of classroom time and a day in the field
30+ Hours of great education, hands-on training and networking
Up-to-date information for the current market
Get the practice and experience you need
Put the Wholesale Process to work in your life and business
Detailed analysis of each step of the Wholesale Process

Learn to call and negotiate with real sellers
Developing an active buyers list
How to find owners of vacant houses
Field trip for viewing houses, doing due dilegence, determining comps and estimating repairs
Using Buyer and Seller Scripts
Prescreening deals in seconds

Analyzing deals & structuring offers in minutes
Knowing a deal vs no deal
How togenerate motivated seller leads
Making the paperwork simple and easy
Systematizing your business for success
Creating a Business Plan and working your plan
More Question And Answers
And much, much more!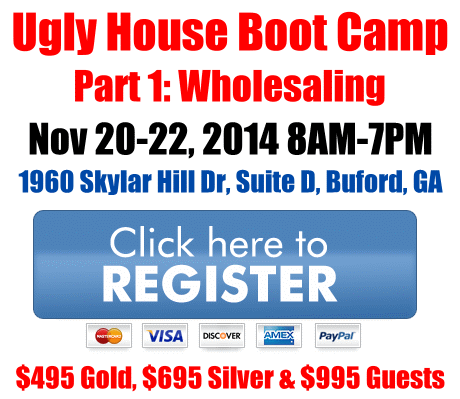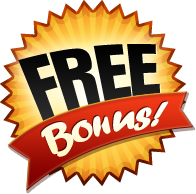 SPECIAL BONUSES:
Rock and Russ have some special bonuses for everyone who registers for this event from Nov 3rd – 19th:
5 Day 4 Night Trip to Cancun
Free 4 hour consultation with Rock or Russ to help jump start your real estate investment business ($600 value)
Full Day Negotiations Workshop ($99 value)
Full Day Marketing Workshop ($99 value)
Bring 5 Deals and have Rock or Russ help you structure them ($2500 value)
Russ Hiner has spent 30 years on reaching his goals and becoming an expert. He has worked with Rich Dad and Russ Whitney as a mentor for 13 years. Russ has actively Played the real estate game including working everyday doing wholesales, buy, fix & sells, lease options, rentals, creating notes and buying and selling on Contract For Deeds. Russ has played the roles of being a buyer, a seller a rehabber and a lender in real life situations and has became an expert at all those areas. Now you too can benefit from his knowledge and experience by working with him. Russ is also the leader of the Creative Deal Structuring (CDS) Group.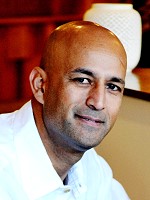 Rock Shukoor has been A fulltime real estate investor for over a decade. He is one of the top marketing and business consultants in the country for real estate investors as well as business owners. He is a graduated and master in real estate investing, a leading expert in creative financing, a coach to hundreds of successful investors around the country, a sought after speaker and presenter in the areas of real estate investing and an active investor himself. He is the leader of a Marketing and education group called AIM, short for All Inclusive Marketing. Rock is also the author of 5 books on real estate investing and marketing.