Internet Marketing Online Boot Camp for 2011 – Workshop 1 Replay
Posted on September 27, 2011 by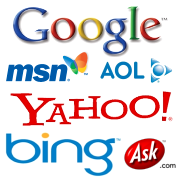 On September 27, 2011, Dustin Griffin kicked off the Internet Marketing Online Boot Camp for 2011, aka "The Extreme 90 Day Internet Marketing Makeover" on GoToWebinar to teach you how to establish a strong Internet presence, get your websites, pages and profiles to the top of the major search engines quickly and to generate all the leads you can handle using the power of the Internet. In Workshop #1, Dustin covered the following material…
Workshop #1: Getting Ready – An Introduction to Internet Marketing
What is 800 Lb Guerilla Internet Marketing?
The Purpose of this Boot Camp
What we will cover in Workshop #1
What is Internet Marketing?
Organic vs Pay-Per-Click Listings
What is Search Engine Marketing (SEM)?
What is Search Engine Optimization (SEO)?
What is Social Media Marketing (SMM)?
What is Electronic Mail Marketing (EMM)?
How Search Engine Domination Works
Which Search Engines We Want to Focus On
Getting to the Top of the Google in Seconds, Minutes or Hours
Black Hat vs White Hat SEO
Using REAL SEO
How Search Engines Rank
On-Site and Off-Site SEO
Choosing a Good Domain for SEO
Choosing Which Keywords to Optimize
Short Tail, Medium Tail & Long Tail Keyword Phrases
Using the Google Keyword Research Tool
Creating Your Company Brand
Completing the SEO Profile Worksheet
Homework Assignment for Workshop #1
Questions & Answers
What's Next?
Watch Workshop Replay Below...
Sorry, access to this replay is restricted to Atlanta REIA Members who have paid to attend this Workshop.
If you are a Member, please Login Now.
If you are a Member & logged in, please Purchase Access.
If you are not a Member, please Join Atlanta REIA.
Click here for more Internet Marketing Online Boot Camp Replays for 2011.