Internet Marketing Online Boot Camp for 2011/2012 – Workshop 11 Replay
Posted on February 19, 2012 by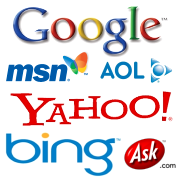 On February 9, 2012, Dustin Griffin taught the 11th installment of the Atlanta REIA Internet Marketing Online Boot Camp, a series of live, online webcast workshops that are designed to teach you how to establish a strong Internet presence, get your websites, pages and profiles to the top of the major search engines quickly and to generate all the leads you can handle using the power of the Internet. In Workshop #11, Dustin reviewed everything covered in the previous 10 sessions, talked about how all the various Internet Marketing techniques work together, how to track marketing results, how to tweak your marketing results, how to develop a Internet Marketing Plan, a few more basic and intermediate SEO tips and answered final questions.
Workshop #11: Wrap Up Session
Homework Review from Workshop #10
Internet Marketing Boot Camp Wrap Up
Purpose of Boot Camp
3 Steps of Search Engine Optimization
800 Lb Guerilla Marketing
Internet Marketing
How it All Works Together
Domain Registration
Keyword Research
SEO Profile Worksheet
SEO Account Tracking Worksheet
Google, Yahoo & Bing Accounts
WordPress.org Blog & Website
On-Site Search Engine Optimization
HTML Cheat Sheet
SEO Tips & Tweaks
Social Networking
SEO Using Articles & Ads
Marketing with Videos
Social Bookmarking
RSS Feeds
Email Marketing
Dofollow & Nofollow Backlinks
Other SEO Suggestions
Website Automation
WordPress Automation
Facebook Automation
Twitter Automation
Hootsuite
Tracking Results with Google Analytics
Tracking Results with SEO Toolbar
Tweaking Your Results
What's Next? Your Plan
Questions & Answers
Watch Workshop Replay Below...
Sorry, access to this replay is restricted to Atlanta REIA Members who have paid to attend this Workshop.
If you are a Member, please Login Now.
If you are a Member & logged in, please Purchase Access.
If you are not a Member, please Join Atlanta REIA.
Click here for more Internet Marketing Online Boot Camp Replays for 2011/2012.