Renovating Houses & Vacation Rentals Workshop with Robyn Thompson
Posted on October 26, 2021 by
Sat & Sun, November 13th & 14th, 2021 in Roswell, GA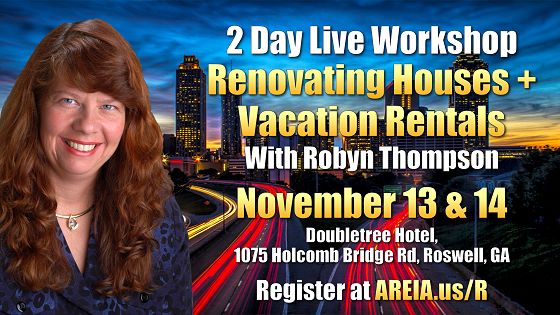 Robyn Thompson's Rehab Workshop Just Got Even Better!
VACTION RENTAL BONUS DAY!
Day 1: Learn How to Turn Junker Properties into Pots of Gold!
Day 2: Building Massive Passive Income From Vacation Rentals & Keeper Properties
A 2 Day Rehabbing & Vacation Rental Workshop with Robyn Thompson
AKA the "Queen of Rehab"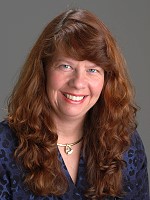 Robyn Thompson is the nation's leading expert on buying properties at deep discounts, renovating them at lightning speed and selling them quickly for huge chunks of cash.
Robyn has trained thousands of real estate investors and we are fortunate enough to have her coming to Atlanta for two full days to teach cutting edge strategies that will produce huge profits and cashflow in today's competitive market.
On Saturday & Sunday, November 13th & 14th, 2021 from 9AM to 5PM Robyn will be teaching her 2 Day Rehabbing & Vacation Rental Workshop at the Doubletree Hotel, 1075 Holcomb Bridge Rd, Roswell, GA.
Robyn has rehabbed over 450 properties in her 22+ years of investing in up or down markets. In 2012, Robyn also started focusing on buying drop dead gorgeous houses in really nice neighborhoods with seller financing and keeping them… many at ZERO percent interest.
Lately, the number one challenge real estate investors have in the this extremely competitive real estate market is how to locate high profit deals to rehab or to keep for passive income.
At the Workshop, Robyn is going to share her top 4 marketing strategies to find the best rehabs and keeper properties so you can beat the competition hands down.
She is also going to teach you how to make multiple offers to sellers so you have a much higher probability of getting the seller to say YES to your offer.
She will show you step by step how to build a large portfolio of keepers and vacation rentals that will produce massive passive wealth for you and your family to live off for many years to come.
The amazing thing with vacation rentals is they make 2 to 3 times the cash flow of a regular, long term monthly rental. In fact, her low maintenance portfolio throws over $60,000 in income per month and she will show you exactly how she did it.
At the Workshop, she is going to teach you how to evaluate keeper properties thoroughly, so you avoid the ones that erode all your profits and you will learn how to create and make multiple offers on only the good houses that can boost your passive net worth.
On Saturday, November 13th, Robyn will be teaching you how to renovate houses for huge chunks of cash and on Sunday, November 14th, she is going to share with you her secrets on how to buy and hold gorgeous higher caliber properties that produce more cash flow, have much less vacancy and maximum appreciation in a very short time. You will avoid all the headaches that go with long term rentals and low end problem tenants.
As you can see this 2 Day Rehabbing & Vacation Rental Workshop will be packed full of knowledge, excitement and education. We look forward to seeing you at this great event on Saturday & Sunday, November 13th & 14th. Register Now!
*PLEASE NOTE: Early Registration Expires on Wednesday, November 10th at Midnight. Tuition will increase by $20 per person on November 11th. Register Now & Save! Non-Members who Join Atlanta REIA can attend the event at member price.