Real Estate Investing 101 Workshop with Russ Hiner – February 25, 2012
Posted on February 13, 2012 by
Real Estate Investing 101 is a new monthly workshop training series that starts on Saturday, February 25, 2012 and is designed to give new real estate investors an exciting glimpse into the highly profitable world of real estate investing. Local real estate expert, Russ Hiner, is helping us kick off our first workshop. During this first session, Russ is going to give you a high level overview of the various ways to profit by investing in real estate and help you get started on your way. Registration starts at 11:00 AM at the Cheyenne Grill located at 2391 Peachtree Rd NE in Atlanta, GA (map). The workshop will officially start at 11:30 AM. The registration price is $10 for Gold Members, 20 for Silver Members and $30 for guests. This price is good for 2 people.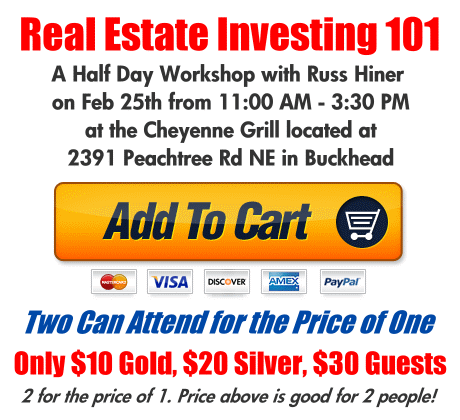 At our first Real Estate 101 Workshop with Russ Hiner you will:
Learn the different techniques that are available to put money into your pocket quickly and efficiently?
Learn some of the basic money making strategies.
Learn How to do deals with no money out of your pocket.
Learn what the advanced strategies are.
Find out which niche of real estate will get you started from where you currently are educationally, financially, mentally and credit.
This is a must training because it will show you the tools that will fit your personality and make you wealthy.
Learn the simple techniques which can get you started investing this week
Discover the 3 important elements of effective Real estate investing
Utilize a 4-Step process to evaluate Real Estate Deals
Eliminate wasted time, ineffective methods, and tire kickers
Handle difficult questions with ease
Develop active listening skills
Profit from distressed property
Understand what you need to close the transaction
Build confidence
As a result you will be positioned to:
Win new sellers, and buyers
Know what to say to sellers
Stand out from the crowd and get notice in a positive way
Deliver your message in a more natural, comfortable and confident manner
Make profitable offers
Feel confident about your direction in real estate
Learn the tools that you need to carry with you everywhere you go
Create an elevator speech
Methodology:
This seminar will give you a great taste on what you can expect when investing in real estate
High energy and high impact reservation will guide you to make better decisions about getting started in real estate.
This training will use the latest adult education techniques along with questions and answers.
Who should attend:
Anyone who has ever dreamed about buying a house
Anyone that believes the real estate is a tool to create financial independence
People without credit
People without a down payment
People who have been in real estate but are looking to learn more.
Someone that has a lot of fear in their life about stepping out of the box.