Nothing But Paperwork Workshop on June 3, 2016
Posted on May 17, 2016 by
Fri, June 3rd at 9AM – Attend in Person or Online!
Atlanta REIA Presents:
Nothing But Paperwork
How To Properly Complete Real Estate Investor Contracts & Paperwork
A Full Day Workshop with Don DeRosa on Friday, June 3rd from 9AM-6PM
There Are Two Ways to Attend…
In Person in Buford or
Online via GoToWebinar!
Are You Ready to Take the Fear Out of Doing the Paperwork to Complete a Transaction?
Do real estate contracts and paperwork scare the daylights out of you? Do you wish you had a better understanding of how to fill out all the paperwork that comes with being a real estate investor for each and every deal you do? We have the solution to your problem!
On Friday, June 3rd, 2016 at 9AM, (1) in person at 1960 Skylar Hill Drive, Suite D, Buford, GA or (2) Online via GoToWebinar.com, we will teach you how to be a paper pushing real estate pro. We are going to show you how fill out all the paperwork that you use on a daily basis to become a real estate investor and more importantly, a "transaction engineer".
Paperwork like:
Purchase and Sale Agreements
Authorization to Release Information
Power of Attorney
Land Trusts
Beneficial Interest
Appointment of Trustee
Assignments
Leases
Options
Disclosures
And many other documents that you will use on a daily, weekly, or monthly basis depending on the kinds of deals your doing.
Here are some things that you will learn:
How to fill out all the documents needed to protect yourself from potential legal issues
How to explain each paragraph to your sellers, your lenders, and even your buyers so everyone is informed and comfortable with the paperwork
How to write in the financing terms – the payment structure, who's paying closing cost, who's doing the home inspections, what the closing dates are, and who is the closing attorney
What steps need to be taken when someone defaults on an agreement
What paperwork needs to be notarized
What paperwork needs to be filed at the courthouse and what paperwork is private that nobody sees
What kind of disclosures you have to offer, such as:

Seller Disclosures
Lead-based paint
Asbestos
Radon
Agency disclosures
We are also going to show you how to take all of these mounds of required paperwork that you will use on a daily, weekly, and/or monthly basis and put it all in the palm of your hands! We will show you how to make the mounds of paperwork into electronic files that can be filled out within seconds versus minutes, hours, or in some cases, days.
We are also going to share with you the 8 things that could blow up your real estate transaction if you are not careful:
The seller doesn't have the authority to sell
The purchase and sale agreement is signed improperly
The purchase and sale agreement has the wrong or in adequate legal description
Earnest money is handled improperly
Allowing the seller to stay in the property after closing without the right possession agreement
Failure to indicate clearly what the seller gets and what the buyer gets so that everyone understands
Failure to get all of the initials and signatures to make it a valid sale
Failing to give proper disclosures
Not allowing yourself enough special stipulations or out clauses to protect you from losing your earnest money
If you want to take the fear out of filling out contracts and completing the paperwork properly and want to organize and systematize your real estate documents, this is a one day training event you don't want to miss! We hope you will join us!
To Attend In Person in Buford, GA, Register Here…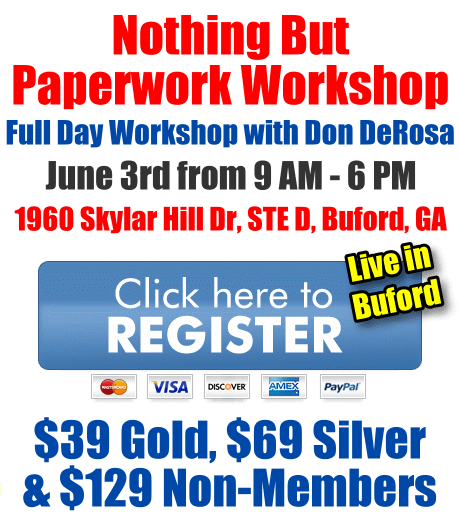 To Attend Online Via GoToWebinar.com, Register Here and follow these instructions carefully…
Register & Pay for the Event: Register for the Online Only Workshop below.
Register for the Webinar: Once you have successfully paid and registered for the event, you will be taken to a screen with instructions on how to register for the webinar. You will also be emailed these same instructions. So follow the instructions to register for the webinar.
Webinar Confirmation & Login Information: Usually within 24 hours of recieving your payments, we will confirm your webinar participation and send you confirmation information on how to login to the webinar on the date of the event. Once you get your Webinar Confirmation Information, you can login on Friday, June 3rd about 5-10 minutes prior to the 9:00AM start time using your PC, Mac, Tablet or Smart Phone. You can download the GoToWebinar App here on iTunes App Store or the Google Play Store.