Note Buying Workshop with Donna Bauer on May 20, 2017
Posted on April 24, 2017 by
Saturday, May 20th @ 9AM in Atlanta, GA
Note-Buying Workshop
Learn How to Profit on
Discounted Notes, Seller Financing,
and Distressed Mortgages.
Saturday, May 20th from 9AM-5PM at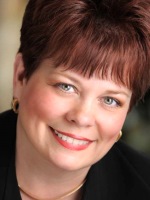 Join us at the Note-Buying Workshop on Saturday, May 20th at 9:00 AM at 3125 Presidential Pkwy, Atlanta, GA with Donna Bauer to learn how buying notes and discounted mortgages the right way, could put you on a path of financial success. During this full day workshop, Donna will expand on the concepts she was only briefly able to talk about Monday night at the Atlanta REIA Main Meeting.
Donna will teach you specifically how to…
Create quick cash and long term cash flow with 3 Basic Note Buying Strategies—WITHOUT your own cash or credit
Evaluate 4 critical areas before buying a note
Create an 'ultra safe' deal, even in a down market
Buy 'part of a note' for super high returns and safety
Create SMART seller financing for maximum cash out later
Buy and sell properties WITHOUT ever needing a bank
Have all of the safety and high returns of a real estate investment without dealing with the tenants, trash and toilets
Answer your questions and more!
Plus, You will learn how to…
Use defaulted bank loans as a backdoor to acquiring properties well below market value
Use defaulted bank loans to create super high yields by modifying the mortgage and allowing the homeowner to stay in the house — a real win/win!
Donna began her note buying career over 25 years ago in search of a vehicle that would offer her financial security without sacrificing cherished time with her four children. Working from her dining room table, as she began closing discounted note deals across the country, she realized that she had found a gold mine! Now, with well over a thousand deals under her belt, her peers consider her to be the foremost subject matter expert on note buying, while her students acclaim her as being a gifted, inspiring mentor.
Come spend the day with Donna at the Note-Buying Workshop on Saturday, May 20th at 9:00 AM – 5:00 PM. If you are serious about building wealth in today's real estate market, you don't want to miss this workshop!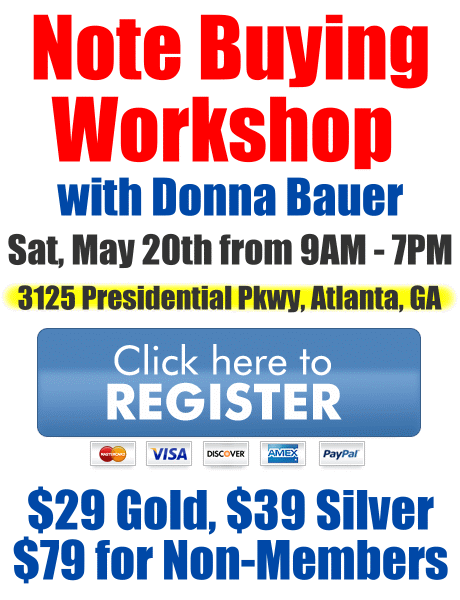 *PLEASE NOTE: The 2 for 1 Early Registration Special is for Atlanta REIA Members Only and is limited to spouses, adult children and corporate partners. Early registration expires on Wednesday, May 17th at midnight. Non-Members who Join Atlanta REIA between April 25th – May 17th, 2017 can attend the workshop for NO CHARGE. Also, Atlanta REIA Members who renew their membership for an additional year between April 25th – May 17th, 2017 can attend the workshop for NO CHARGE as well. When Joining Atlanta REIA or renewing your membership, please indicate that you want to attend the workshop at no charge. You can Join Atlanta REIA at http://membership.atlantareia.com.