Let's Go Meet Face-to-Face With Sellers on Saturday, June 28th with Bill Cook
Posted on June 18, 2014 by
Sat, June 28 @ 8:15 AM – Smyrna, GA
Join us on June 28th for a REAL, LIVE, HANDS-ON…
Door Knocking Field Trip
With Bill Cook
Do you want to SEE the fastest, cheapest, most effective way to get face-to-face with motivated sellers?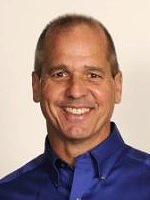 Then join me, Bill Cook, for a day full of door knocking with real sellers on Saturday, June 28th from 8:15 AM – 3:45 PM. We'll spend the day out talking to sellers and constructing win-win deals at their kitchen tables.
What's the fastest, cheapest, most effective way to get face-to-face with motivated sellers? When you see a For Sale sign in a seller's yard, get out of your car and knock on the seller's door. It's as simple as that!
I know what you're thinking: The seller will slam the door in my face; the seller will yell at me; the seller will tell me to get lost.
I know something else, too: You say this having never spent a single day out knocking on homeowners' doors – especially out knocking doors with someone who has done it for more than 35 years!
Some of the Questions I'll Answer While We're Out Door Knocking:
Which homes should you go to?
How and where should you stand when at the seller's door?
What should you carry with you?
What do you say when the seller answers the door?
What do you do if no one is home?
Why will 8 out of 10 sellers invite you in?
What are the best types of neighborhoods to work?
What do you do after the seller invites you in?
How do you get to the seller's kitchen table and why it's THE place to be?
What are the MOST important questions to ask a seller?
How do you construct a win-win offer?
What do you do if the house is vacant or bank owned?
On Saturday, June 28th, 2014 at 8:15 AM, I'll be taking a select group of real estate investors out door knocking. We'll be meeting in at the Home Depot parking lot located at 1200 East-West Connector, Austell GA beside the Garden Section facing Floyd Rd at 8:15 AM SHARP.
Just think, you have the opportunity to spend the day out meeting with sellers in the real world with someone who has made his living knocking on homeowners' doors for more than 35 years!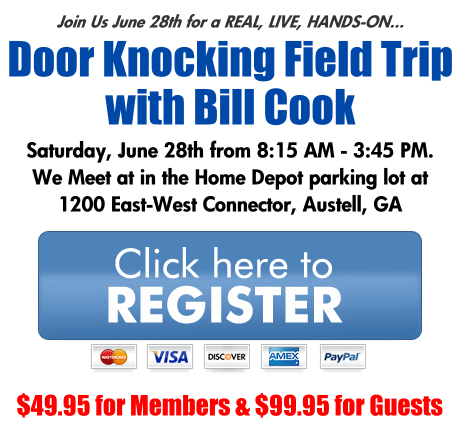 I promise you'll come away with some really great stories, plus a couple of big Ah-Hah moments that can dramatically change the course of your real estate investing life!
So where does your unfounded fear of door knocking come from? It comes from the unknown. What if the seller answers the door and invites you in? What do you do next? Lions and tigers and bears, oh my!
Here's some great news: Every real estate investor has these same fears. If you will learn the art of meeting with sellers face-to-face, you'll have ZERO competition!
How do I know? Beginning in 1995, my wife Kim and I sought financial freedom square on the back of knocking on sellers' doors, being invited in to see their home, then sitting at the kitchen table and asking Pete Fortunato's famous question: Why are you selling such a nice house like this? This is how we found 90% of our deals!
Here's a ratio for you: If I talk to 10 sellers at the door, 8 will invite me in – EIGHT! Are you getting this kind of result from your bandit signs or website? A question for you: To be a successful real estate investor, do you need to meet with more sellers or less sellers?
While real estate investing is simple, it's anything but easy. To be successful, the MOST important thing you must do is get face-to-face with sellers on a regular basis. Nothing takes the place of this. NOTHING! It's the alpha and omega of real estate investing!
Your next question is probably: "Bill, what qualifies you to teach folks how to door knock and meet with sellers?" Beginning in 1978, I put myself through college selling Electrolux vacuums door-to-door. In 1995, I switched from Electrolux and became a full-time real estate investor. No one else in the country has this amount of experience at homeowners' doors.
You are either serious about real estate investing or you're not. If working 40 hours a week for the man isn't your idea of financial freedom, if you're a round peg who is being forced to fit in into a square hole, then come spend the day with me. It will be time well spent. And at the end of the day, if you feel that it wasn't, I'll gladly refund your hard-earned money with no questions asked.
Looking forward to having you join me. Remember, I LOVE questions! See you there!
Bill Cook