Learn How to Raise Private Money to Fund All Your Deals on March 25, 2017
Posted on March 13, 2017 by
Sat, March 25th @ 9AM in Atlanta, GA
PRIVATE MONEY: No Limits
Learn How to Borrow All the Money You Need, For All the Deals You Have!
A Full Day Workshop with Don DeRosa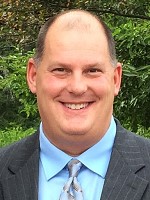 Hi, my name is Don DeRosa and I am a full time real estate investor who uses private lenders to fund all my cash and creative real estate investment deals. On Saturday, March 25, 2017 from 9AM to 6PM at 3125 Presidential Pkwy, Atlanta, GA, I am teaching a Private Money Workshop to teach you how you too can raise all the private money you need to fund your deals. Register Now!
So why are private lenders so important to my real estate investing business? Because using private lenders gives me the flexibility and the speed to grab up deals other investors have to pass on.
Here are just a few good reasons to use private money to fund your deals:
Having private lenders allows you to close quickly. If I had to close on a house today I could have a certified check for $25,000 within two hours. Why? Because I have private investors ready, waiting, willing and able to send me a check at my call. If I didn't do that, I'd have to pass on a lot of deals because I wouldn't be able to find the money fast enough. Even if you've got bank financing lined up, you can't close as quickly as you can with a private lender.

You can buy houses that the banks aren't willing to finance. If a house needs a lot of repairs, banks will not lend on it. Let's face it, banks are picky! Recently one of my buyers was rejected for a bank loan on one of my houses because the house didn't have carpeting. I had to go put carpet in it so we could close. A private lender doesn't have to operate by the same narrow policies.

You will not survive the cash-flow game if you use your own money. Like it or not, it takes money to make money. If you depend on using your own money, sooner or later you're going to run out. You never need to run out of private lenders!

You can make all-cash offers more readily if you have private money. And that means you can get the houses at a huge discount. You can say: "Look, I'll pay you cash and I'll close quickly, but here's my cash price. Take it or leave it." And your competitor? He comes to the same seller, saying: "I'll buy your house, but I want you to do owner financing. And let's spread it out over five years. I'll give you cash some now and some later." Which investor do you think is going to get the deal? I am, because I've got cash in hand!

Exit strategies will be much quicker and more profitable, because you can make better offers. If you can buy a house subject to the existing financing and only bring $10,000 to the table, you'll have your choice of exit strategies. It's not your money, so you don't have to get out of the deal as quickly. You can hold on to it for a month or for twelve months. It doesn't matter, because it's not your money.

You can negotiate more flexible terms with private lenders You'll pay less than you will if you borrow from a bank or other money lender. You can negotiate simple interest instead of compound interest, or you can make one payment at the end instead of paying every month. And you can negotiate the amount of time you have the money.

You can take on more loans if you borrow from private lenders. If you use bank financing, at some point you'll be told you're maxed out and you can't take out any more loans. And that limits your income. With private lenders, you don't have that limit.

You avoid closing costs by using private lenders. Have you ever seen a HUD statement from a person that got conventional financing? The fees on that HUD statement are astronomical. When I do a subject-to loan with a private investor, my average closing costs are about $1,100 regardless of the size of the loan. All I'm paying for is my attorney, some recording fees, and title insurance. That's it!

No credit report is required with private loans. Even better, not one of these loans shows up on your credit. And that means you can buy higher-priced homes, and more of them. Meanwhile, your credit becomes squeaky clean, which helps you in other parts of your life. I buy ten or more pretty houses every month. None of them are on my credit. I could buy a hundred a month if I had that many houses coming at me, and if I had the funds available.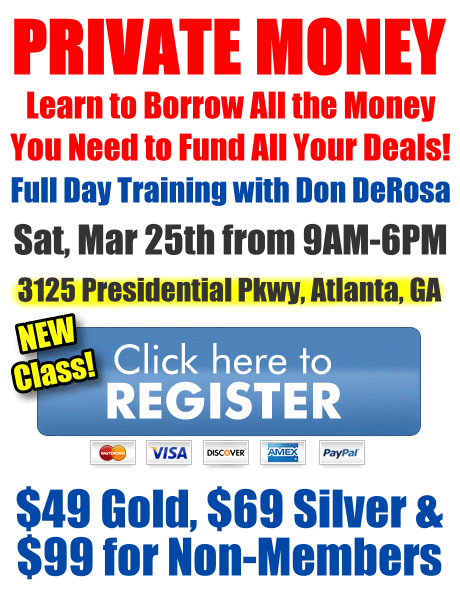 So what happens if you DON'T use private lenders? Well, you're stuck with the amount of money that you have or are able to borrow from traditional or hard money lenders. And sooner or later you'll run out of money. You'll have to pass on a lot of good deals, because you don't have the money. Ask me how I know! I know because I struggled with cash flow before I figured out the whole private lending strategy.
If you don't use private lenders, you'll probably use cash-out revenues or lease-option down payments to fund your renovations or your new purchases. That means you're taking your revenue and funneling it right back out as an expense. So what's left in the middle? Nothing! Is that why you want to go into this business, to create a hobby? I don't think so! Line up your lenders now, so you can take advantage of those good deals when you find them.
Join me at the Private Money Workshop and learn:
The Ins & Outs of getting and using Private Money in Today's Market and Economy.
The important "system" behind continuing to attract private money into your business.
What makes a "perfect" private lender? Not everybody with money is a "perfect lender".
Face to face with people with money: How to do it, what to say, what tools to use to "sell".
How much to get? Covering purchase, down payments, full purchase price, insurance costs, holding costs, rehab costs, etc.
Compelling Reasons why every investor, regardless of experience needs more private money lenders standing on "ready".
How to locate private money people.
How to structure the deal, when you're using a private money source.
How to protect YOU and the money person.
How to use the proper disclosures.
What paperwork you'll need.
Using private funds on high-end deals.
Answers to your Private Money questions and much more!
Private lenders allow you to buy more homes for less money. They reduce your risk, increase your flexibility, and give you a substantial edge over your creditors and competitors. Learn to line up private lenders in advance, so you'll have the money when you need it the most. Join as the event to learn how!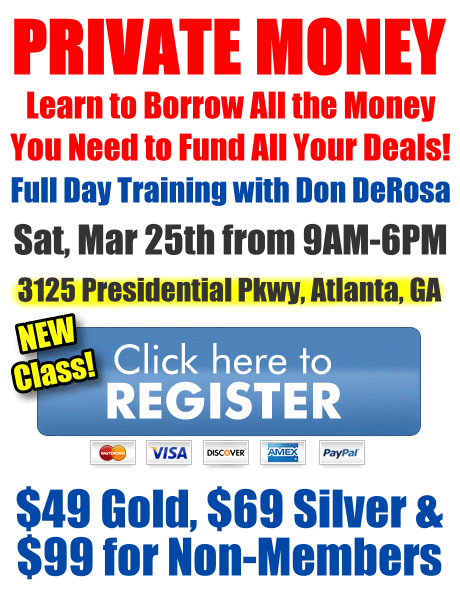 PLEASE NOTE: Early registration expires on Wednesday, March 22nd at midnight. You can join Atlanta REIA at http://membership.atlantareia.com and save on tuition fees.