Jump-Start Your High-Tech Homebuying Business – Day 3
Posted on January 25, 2017 by
Sunday, February 26th @ 9AM in Atlanta, GA
Sunday, February 26th from 9AM-7PM at
Using High Tech Tools to Operate, Systematize & Automate Your Real Estate Business for Fun & Big Profits!
with Don DeRosa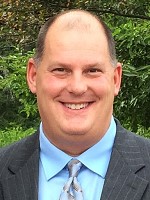 Most people only use their smartphones and tablets to talk, text, play games, and watch videos. But did you know that you can also use your mobile devices to successfully operate and automate most of your real estate investing business so you can work less and earn much more?
Imagine this… You've found a deal. You're at the seller's house and everything seems to look good… but you suspect the sellers might have an appointment with your competition later. You need to lock this deal down NOW so you don't lose it. NO problem! You smile as you pull out your tablet, tap a few apps, run a few numbers and… BAM!
In just a few moments, you've pulled comps, estimated the repairs, made your offer to the seller, gotten them to sign the contract, then submitted that contract to your title company, your attorney, and the seller… ALL BEFORE ever leaving their house! Best of all, it was not only EASY, but FUN to do it all that way!
At this full day training, Don DeRosa will teach you about all the tip, tools and technology you need to take your business to the next level and beyond! He will teach you about…
During the Day 3 of the 3-Day Jump-Start Boot Camp, you will learn about:
How to find leads on your tablet or smart phone
How to easily run your business from the palm of your hand
How to carry your business with you so you never miss an important opportunity
How to find comps without ever stepping out of your car
How to automate all the parts of your business that suck up your time
How to complete your paperwork on the fly
Don's favorite hardware, software, gadgets and apps to make your much more productive and efficient
And much more!
If you want to learn how to use the latest technology such as PCs, Smart Phones, Tablets and other hardware, software, apps and gadgets to operate, systematize and automate your real estate investing business to be leaps and bounds ahead of your competition, don't miss this event… Register Now!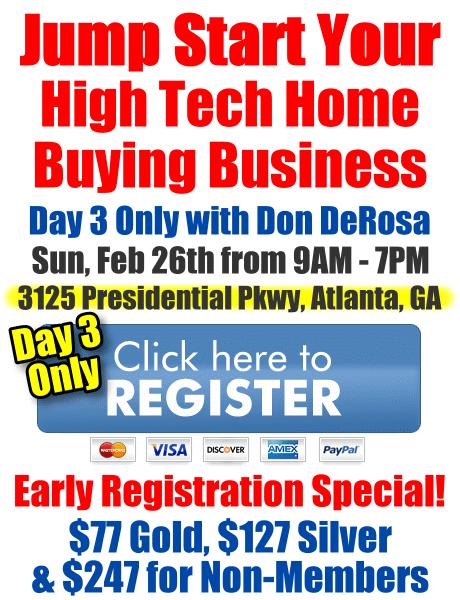 You can also purchase any of these 3 events separately or get more detailed information about each event using the links below.
Sign up for all 3 Days of the Jump-Start Your Real Estate Investing Business Boot Camp!