iPad Workshop (Part 2) with Don DeRosa on July 6, 2011
Posted on June 27, 2011 by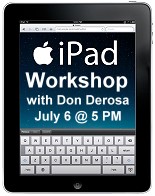 If you want to learn how to use the iPad to revolutionize your business, come join us at for Part 2 of the iPad Workshop with Don DeRosa on Wednesday, July 6th at 5 PM at our Atlanta REIA North Office located at 1960 Skylar Hill Dr in Buford just a few miles from the Mall of Georgia or online via GoToWebinar.com. The workshop is only $10 for Gold Members, $20 for Silver Members and $30 for guests.
PLEASE NOTE: If you attended PART 1 of the iPad Workshop on June 22nd, you can attend this 2nd iPad Workshop at NO CHARGE by using coupon code "IPADPART1". If you are an Atlanta REIA Member and missed the first workshop, you can pay to attend Part 2 of this iPad Workshop and watch a replay of Part 1and Part 2 on the Members Only Section of AtlantaREIA.com as they becomes available.
Register Now for the
iPad Workshop Part 2 with Don DeRosa
July 6, 2011 @ Atlanta REIA North Office
or Online at GoToWebinar.com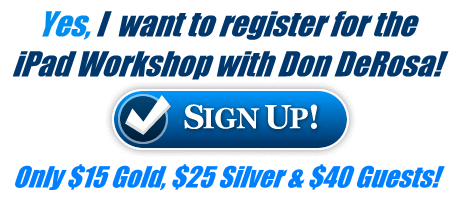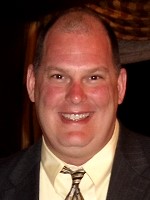 On June 22nd, Don DeRosa conducted the iPad Workshop with Atlanta REIA members and guests. Because there was so much material to cover and so many good questions from our live and webcast audience, Don did not get to cover all the material he wanted too. As a result, Don has generously agreed to come back and teach Part 2 of the iPad Workshop for 4 more hours so that he can cover all the additional information he wants to share with you (see more below).
If you didn't attend the first iPad workshop, perhaps you have heard about the iPad and the hot new iPad 2 by now. You've probably also heard Don DeRosa talk about how its not just a cool new toy, but an integral tool he uses to run his real estate investing business. You've probably already seen many investors actively using their iPad at our Atlanta REIA Meetings and Networking Events to take notes, take pictures, play music, videos and webcasts, send and receive emails and keep track of all our upcoming events and more. Perhaps you've recently purchased an iPad yourself and, like the rest of us, want a lesson on how to not only use it more effectively for personal use, but more importantly, use it to run your investing business from virtually anywhere, on-the-fly.
Don is going to spend 4 hours showing us how to use many simple iPad apps that will totally change the way you do business…saving you countless hours of time, and giving you access to everything you need to run your real estate investing business, wherever you are. Here's just a sampling of the topics Don will cover at the iPad training session:
How to track – Your time, Your contacts, Your expenses
How to customize your iPad for your use – using email, moving apps around, transferring files, creating playlists, etc.
How Don uses Maps to make his life easier
Having Fun – Movies, TV Shows, Podcasts, iBooks, Music, etc.
Must have iPad Apps
Using the iPad in Real Estate:

Evaluating Leads
Using Maps for the Real Estate Investor
Using Zillow to do preliminary evaluations
Don's Easy Offer Maker
Realtor.com to evaluate rentals
Using the PowerOne Calculator to evaluate the deal
Using Apps to Put the Deal Under Contract
Emailing/Exporting the Contract
and much more!
Don also encourages group participation so other iPad power users at the workshop can share their tips and ticks too. Immediately after the iPad Workshop, we will reconvene at the Tilted Kilt at the Mall of Georgia for networking and more talk about the iPad, apps and technology. We hope you will come join us for an evening of tech talk, training, friends and fun!
When? Wednesday, July 6th from 5:00 PM to 9 PM
Where? 1960 Skylar Hill Dr, Suite D, Buford, GA (map) or GoToWebinar.com
Why? To learn how to use the iPad for fun and profit
Cost? $10 for Gold Members, $20 for Silver Members & $30 for guests. No Charge for people who attended Part 1 of the iPad Workshop.
Bring? Your iPad with a fully charged battery