Hidden Profits in Real Estate Research Workshop with Gordon Catts on Jan 22nd
Posted on January 16, 2011 by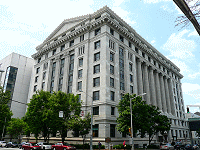 Every month there are over 10,000 Pre-Foreclosure Ads posted in the "Legal Organs" for the 13 Metro Atlanta Counties. The "Shadow Inventory" is estimated to be over two million properties nationwide with Georgia in the top five. Bankruptcies are at record proportions with record breaking filings in the Greater Atlanta region. There are homes in all price ranges sitting vacant. They are not for sale, they are in limbo. The average mortgage delinquency is over 20 months and not expected to get better any time soon. In other words, there are lots of motivated sellers as well as motivated lenders. Learn how to find the hidden jewels that most investors pass by not even knowing that they exist.
At my upcoming Hidden Profits in Real Estate Research Workshop on January 22, 2011, I will teach you the insider secrets of locating property, lenders and other investors, as well as how to research ownership and mortgage information, sale prices, liens and judgments, etc. You'll also learn how to:
Find property owners of vacant properties
Locate legal descriptions of properties
Find out sales prices before making an offer
Find out about Private Lenders
See what liens and judgments are outstanding  against
Properties before making an offer
Find out what else the seller/buyer owns
How to find property owners with problems (situations)
Pre-foreclosure leads
Foreclosures
Delinquent property taxes
Bankruptcy situations
How to find a continuing source of active real estate
Investors
How to locate a source of cash buyers
Learn which lenders have REO's
Again, the Hidden Profits in Real Estate Research Workshop is on January 22, 2011. Location TBA.
Tuition for the Workshop is:
$49 for Atlanta REIA Gold Members
$79 for Atlatna REIA Silver Members
$99 for Non-Members & Guests

Gordon Catts has a widely diversified real estate background. He has been involved in building, appraisal, title work, and brokerage, as well as training, mentoring and consulting. Gordon has trained thousands of real estate investors nationally, as well as locally in the Greater Atlanta area. Gordon is a long time member of several real estate groups and have been involved in the formation of several local associations.