Guerilla Marketing 1.0 Workshop with Dustin Griffin & Don DeRosa on September 24, 2016
Posted on September 15, 2016 by
Sat, Sept 24th at 9AM – Buford, GA or Online via GoToWebinar
Atlanta REIA Presents the BRAND NEW:
Guerilla Marketing 1.0
Low Tech, Low Cost Marketing Tactics to Generate Motivated Buyer & Seller Leads
A Full Day Workshop with
Dustin Griffin & Don DeRosa
Saturday, September 24th from 9AM – 6PM
There Are Two Ways to Attend…
In Person or Online via GoToWebinar!
Discover Low Tech, Low Cost Strategies & Techniques to Genearate All the Motivated Buyer & Seller Leads You Can Handle to Explode Your Real Estate Investing Business!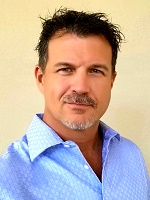 When it comes to making money as a real estate investor, nothing is more important than the ability to generate high-quality buyer and seller leads. After all, if you have no buyers and sellers to talk to, your skills as a savvy real estate investor never even come into play.
If you are going to be a successful investor, you must be a successful marketer! The good news is, generating motivated buyer and seller leads is pretty easy with a little time, effort, creativity and a reasonable monthly marketing budget.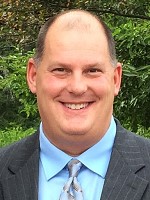 In this special one-of-a-kind workshop, Dustin Griffin and Don DeRosa will show you those proven, effective, affordable methods you can use for little to no cost to generate waves of valuable leads day after day and month after month to achieve your financial goals.
Learn Low Cost, Low Tech Marketing Tactics to Generate Leads such as:
Developing Your Marketing Plan on a Limited Budget
Branding Your Business
Prospecting for Leads vs. Advertising for Leads
Many Different Low Tech, Low Cost Lead Generation Strategies & Techniques
Using the Internet, Websites & Online Resources
Using Voice Mail Systems
Using Live Operators & Virtual Assistants
High Tech Marketing Examples
You will also learn:
Which traditional marketing methods really work and which are a complete waste of time and money!
How to generate all the motivated buyer and seller leads you need to run a successful home buying business without spending a fortune!
How to determine exactly how many seller leads you need to achieve your short term cash flow needs and meet your long term financial goals… and then go out and get them!
How to tap into the power of the Internet to generate tons of new leads… plus, how to turn any website into a lead-generating machine!
How to triple your current seller response rate by using a proven 2-Step Marketing Technique!
The most affordable and most effective direct and mass marketing techniques to reach motivated sellers who need to sell and tenant/buyers who want to buy or rent, regardless of their credit!
How to gain instant credibility and establish your company as trusted experts who can solve problems and help prospects buy, rent or sell their home quickly!
How to market to the widest possible audience of buyers and sellers even on a shoestring budget!
And Much, Much More!
If you're at all disappointed with the amount of money you've been earning in your investing business and are fed up with all the time you've been spending trying to figure out how to get more leads and do more deals… then come Join us at the Guerilla Marketing Workshop Training Series. Here we will teach you how to dominate your local real estate market both offline and online to generate all the motivated buyer and seller leads you need to run a successful home buying business using many free or affordable marketing techniques.
Don't miss this opportunity to learn the marketing skills you need to know to start generating an endless stream of real estate buyer and seller leads for little effort and little expense. Register now before this event sells out!
Guerilla Marketing 1.0 takes place on Saturday, September 24th from 9AM to 6PM at 1960 Skylar Hill Dr, Buford, GA or Online via GoToWebinar. Come join up in person or online! I would love to help you take your Real Estate Investing to the next level by generating all the motivated buyer and seller leads you can handle!
To Attend In Person in Buford, GA, Register Here…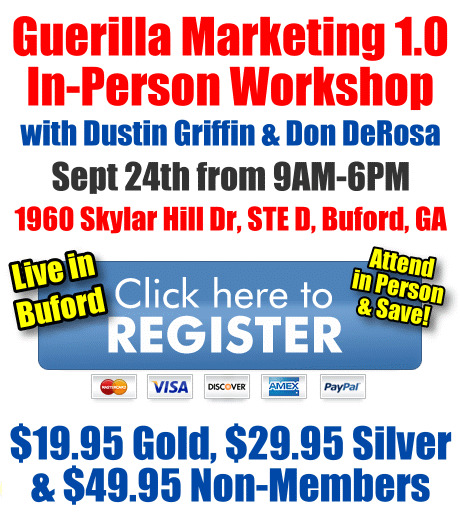 Please Note: This low cost, information packed in-personclass is limited to 36 people and will sell out fast, so register now and reserve your seat!
To Attend Online Via GoToWebinar.com, Register Here and follow these instructions carefully…
Register & Pay for the Event: Register for the Online Only Workshop below.
Register for the Webinar: Once you have successfully paid and registered for the event, you will be taken to a screen with instructions on how to register for the webinar. You will also be emailed these same instructions. So follow the instructions to register for the webinar.
Webinar Confirmation & Login Information: Usually within 24 hours of receiving your payments, we will confirm your webinar participation and send you confirmation information on how to login to the webinar on the date of the event. Once you get your Webinar Confirmation Information, you can login on Saturday, August 27th about 5-10 minutes prior to the 9:00AM start time using your PC, Mac, Tablet or Smart Phone. You can download the GoToWebinar App here on iTunes App Store or the Google Play Store.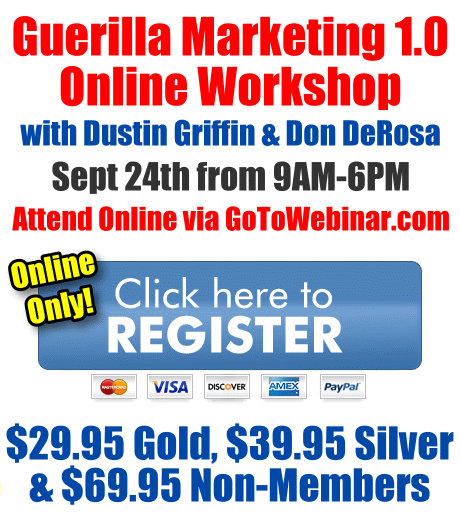 What Some of Our Past Attendees Said…
"I loved all the marketing examples. Dustin is the bomb! :)" ~ Ruth R.
"Excellent workshop with a lot (whole lot) of great content. Dustin put a lot of work into the presentation. Excellent coverage of all the items." ~ E. Ohuche
"Overall an excellent class with great information presented very well. All the information was very helpful. :)" ~ Sabrina C.
"Dustin is very knowledgeable and a great teacher. I learned a lot!!!" ~ R. Marshall
"The teacher Dustin Griffin is very thorough with his information. We all feel like we were fed with a firehose. :)" ~ J. Rexford
"Overall Dustin is a great real estate investors. Very knowledgeable and has a great command of marketing both offline and online. He is of great value to new and experienced investors because of the importance of cost effective marketing and internet marketing." ~ Emeka O.
"The mass amount of information gives me a lot of new ideas for marketing. I could not take notes fast enough! :) I highly recommend for anyone that is interested in real estate investing if you are brand new or a seasoned investor." ~ T. Young
"Dustin really got me motivated to go out and generate more leads. I took seven pages of notes in addition to all the handouts he gave us. I can't wait to implement some of the strategies to get the leads pouring in." ~ Stephen M.
"I really enjoyed teaching this class a lot. I love marketing and love sharing a the various marketing strategies, tips, tools and tricks that I and other successful investors have used to generate all the motivated buyer and seller leads we can handle. I really enjoyed all the class participation and all the examples they shared. Thank you so much for participating!" ~ D. Griffin