Getting the Deed Subject-To Workshop (SOLD OUT)
Posted on August 16, 2016 by
Sat, August 20th at 9AM @ 1960 Skylar Hill Dr, Buford, GA
SOLD OUT! SOLD OUT! SOLD OUT!
Making a Fortune Buying Houses with No Money and No Credit
The Ultimate "How To" Workshop on Buying Houses "Subject To"
A Full Day Workshop with Don DeRosa
Bring Your iPad, Tablet or Smart Phone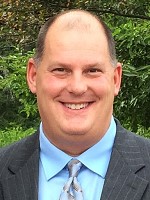 On Saturday, August 20th from 9:00 AM to 5:00 PM (Registration starts at 8:30 AM) at the Atlanta REIA Office located at 1960 Skylar Hill Dr Suite D, Buford, GA, Don DeRosa will be conducting a special full day workshop with Atlanta REIA on "How To Do The New Subject To". This class is all about how to buy and own real estate and make lots of money with little or no money down.
Learn how to buy houses…
Without using your own credit
Without having to sign personally on a note
Without having to qualify for a mortgage
Without having much money
Beginner or experienced real estate investors can find immediate success using Don's simple formula. There are six easy steps to follow when buying "Subject To."
Locating Sellers
Prescreening Sellers
Constructing Offers
Presenting Offers
Finding the Money
Selling Houses
Once you learn to follow these steps you can do this over and over again for an average profit of over $20,000 per property.
There are many ways to make money in real estate and there will be something for everyone at the event. Don will be teaching you his trade secrets, including little- known buying techniques that have made him a very successful investor.
You can learn how to get an owner to just hand you the deed to their property for the low price of $19.95 and you can bring up to 2 friends or loved ones as well!
PLEASE NOTE: SEATING IS EXTREMELY LIMITED! If you want to gain the cutting edge you need to succeed and bypass your competition, REGISTER NOW WHILE SEATS ARE AVAILABLE for the workshop and bring your iPad, tablet or smart phone and join us at the event!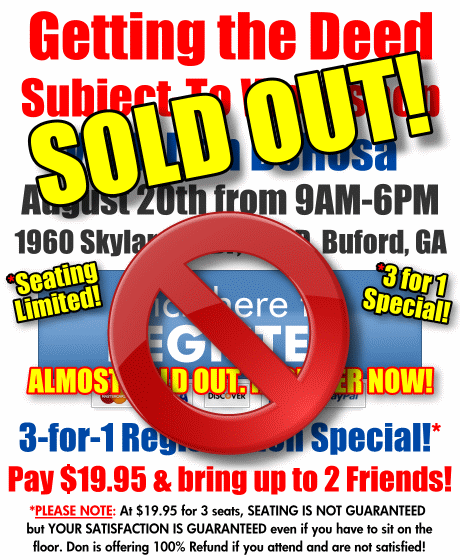 As A Special Bonus:, Don will show you how he remains almost paperless in his real estate investing business by using Apps for your Ipad or smartphone.
Whether you're a novice or an experienced user of hand held devices such as smart phones and tablets, chances are your device will do a lot more than you know. If you would like to learn to leverage the power of your handheld technology, Don will have some tips and tricks that he would like to share with you that will make your real estate investing business a lot more easier and lot more profitable.
DO NOT MISS this event, especially at this
Special 3-for-1 $19.95 Price!
This event will show you from start to finish how to buy "subject to" properties… from raising capital, to finding leads, to meeting with the seller and closing the deal.
This workshop is jam packed with very important topics that Don will cover such as:
How to focus on what matters most in the beginning
Creating a business plan that fits your budget
Setting meaningful goals and prioritize your time and how to track your progress
Learn the five ways to profit in real estate
How to buy houses with little or no money up front
Finding the easiest ways to attract motivated sellers
Top five advertising techniques that work every time
How to evaluate any lead and decide whether this is a winner for you.
Twenty questions you should always ask a potential seller
Know how much money you'll make before you make an offer
How to structure a deal in less than 10 minutes, so that you make a minimum of $20,000, choosing from multiple strategies!
How to use Don's Green means 'GO', Red means 'NO' tools to negotiate for you, so you never let your emotions talk you into making a bad deal
Determine comps and rents from anywhere!
How to meet with the seller and make them feel comfortable with your offer, and how to avoid getting shut out of a deal
How to become a "mindreader," to find exactly what the seller's hot buttons are so you can craft a deal the seller is dying to take
How to prepare paperwork as if you were an attorney
How to walk away with a signed offer the same day and put it in your lawyers hands while you're with the seller.
Learn the top five negotiating tactics to get sellers to say "yes"!
Find all the private money you need without putting loans in your name
Convince private investors to lend you the money you need to do your deals
How to combine buying strategies and exit strategies – that work right now, in 2016 – to effortlessly make a deal work you
Exit strategies that will not only make you lots of money today, but make you wealthy long term
The Secret to creating passive income deals of $350 + per month without any of your own money and with NO management on your part.
And much, much more including answers to your questions!