Extreme Internet Marketing Workshop for Real Estate Investors on December 10, 2016
Posted on November 25, 2016 by
Sat, December 10th at 9AM in Atlanta, GA
Extreme Internet Marketing
Workshop for Real Estate Investors
"Discover Internet Strategies for Real Estate Investing That Will Allows You To Quit Your Job In As Little 180 Days!"
A Full Day Workshop with Duncan Wierman
Saturday, December 10th from 9AM-5PM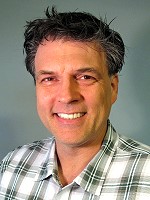 Join Duncan Wierman on Saturday, December 10th from 9:00 AM to 5:00 PM (Registration starts at 8:30 AM) at the Crowne Plaza Ravinia, 4355 Ashford Dunwoody Rd, Atlanta, GA for an amazingly incredible, step-by-step real estate training workshop where he will teach you how to Buy 5, 10, 15 houses or more per month, grabbing houses up fast and selling them for huge profits within hours, without risk, and without leaving your home!
You need to attend this training if…
You want to run your own business from home, and enjoy the freedom of automatic income…
You want to declare independence from your lousy job and your stupid boss…
You want the freedom to spend your time any way you wish, with whomever you wish…
You are burned out with the stress of trying to find motivated sellers and hungry buyers…
This is a breakthrough Marketing Workshop is designed to teach you "How To Create A Constant Stream Of Motivated Sellers and Hungry Buyers That Call You" and may be the most important trainings you've attended all year!
The absolutely, positively Most important knowledge you must have to succeed in real estate investing is NOT about buying houses… it's about "MARKETING YOUR REAL ESTATE ABILITIES" and generating leads!
There are 100's of ways to do a deal, but if you don't have LEADS you have NOTHING. It's time to face reality. You're not in the real estate business… you're in the business of marketing your real estate business!
If you want to succeed and prosper as a real estate entrepreneur, you require a totally new set of marketing skills. Now is your chance to acquire those skills and put them to use in 2017!
How would you like to learn a marketing system that teaches you things like:
Attract dozens of desperate, motivated sellers so you can cherry pick the hottest deals. Uncover hidden bargain deals on the Internet at record breaking speed.
Buy properties below 65 cents on the dollar and then sell them within 1 hour.
Turn your business into a system that makes you over $32,756.32 a month, each and every month!
How to set up a system that can "sniff out" hidden properties that virtually no one is competing for, so the sellers see you as the only game in town.
The incredible way to have automatic "robots" tirelessly working for you day and night, bringing you qualified customers and hot deals.
How to get "private money" to finance your deals. No more getting fleeced by banks! Have your phone ringing off the hook with people begging you to take their money!
How to get insane real estate profits even if you're holding down a day job and have no time to yourself
The best way to boost your credibility with sellers, even if you're new to real estate investing
Create a HUGE list of investors who want to be notified FIRST! They will be begging to buy your houses.
How to market, buy, sell, and/or assign property online, to make MILLIONS from home
We are going to PROVE IT to you live at this full day Extreme Marketing Workshop on Saturday, December 10th from 9AM to 5PM.
Register Now and join us to discover Duncan's secrets that he will be to sharing with you. These are the strategies that he has perfected throughout his own Real Estate Investing ventures and he will show you step-by-step how YOU can implement them into your business today. Register Now!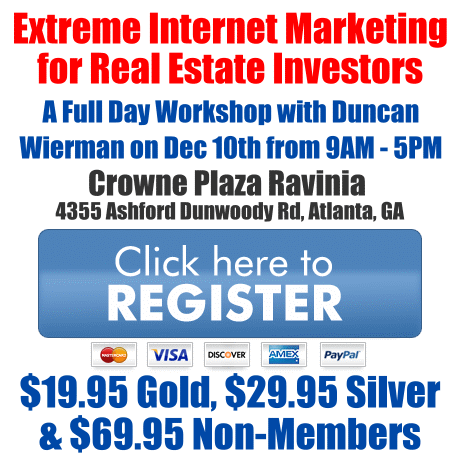 *PLEASE NOTE: The 2-for-1 Early Registration Special is only for Atlanta REIA Members and is limited to spouses, adult children and corporate partners. Non-Members who join Atlanta REIA between Nov 28th – Dec 5th, 2016 can attend the workshop for FREE as new members and can bring a qualified guest. Also, Atlanta REIA Members who renew their membership for an additional year between Nov 28th – Dec 5th, 2016 can attend the workshop for FREE as well. When joining Atlanta REIA or renewing your membership, please indicate that you want to attend the workshop at no charge.